Well, now we know why Lost was moved back to 10pm. All things being equal, I prefer an earlier time slot. But if it means more episodes as intense as the Shape of Things to Come, I won't have any complaints. I can't ever recall seeing a parent watch his child get shot execution style on prime time network television. That scene was so brutally effective in large part because it's rare for Ben to be as surprised by events as we are. Whatever flashes he may have of the future, he clearly didn't see his daughter dying.
I was also moved by the tragic irony of Ben's insistence that Alex was merely "a pawn" and that "she means nothing to me," when the opposite was painfully obvious from his stunned reaction to her murder. Can you imagine having a loved one die with those words ringing in her ears? Let's hope Ben shares Miles's ability to see dead people and was able to correct the record before saying goodbye. I also wonder if he offered her body to Cerberus for later use.
Speaking of irony, I loved the image of Dr. Jack writing himself a prescription, even if only for antibiotics. The writers have always been adept at utilizing irony, but the flash forwards create so many fresh possibilities for dual meaning. Another intriguing example of irony was Hurley's comment that Australia is the "key to the whole game" in Risk. Obviously, the Island is of great strategic importance in the battle between Ben and Charles.
Australia is also central to the familial relationship between Jack and Claire, which brings me to a prediction of how the two will learn they are related. Jack will become sick and delirious just as he did in White Rabbit. Christian will appear once again, leading the two siblings to Jacob's cabin. As the rain pours down outside, Jack will kneel before zombie Christian in a scene that simultaneously references Tarkovsky's original film version of Solaris and Rembrandt's painting Return of the Prodigal Son. Dad...?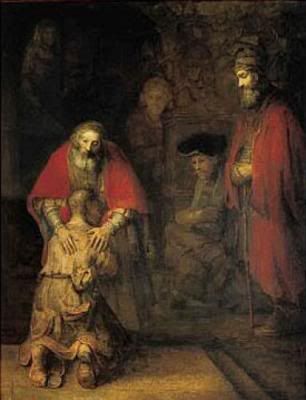 Here are some other thoughts and questions I had about the Shape of Things to Come:
* Ben wakes up in the African desert, presumably in the same general area as that Dharma polar bear skeleton that Charlotte examined in Confirmed Dead.
* Ben's parka sports a new Dharma symbol and the name Halliwax. As you may know, the latter was Dr. Candle/Wickmund's latest alias in the
Orchid Orientation film
, which is available on-line but hasn't yet appeared on the show. I suspect that's about to change, so I'll hold off commenting at length until we actually see the Orchid Station. Suffice it to say that Ben is almost certainly lying about escaping the Island via boat and plane, and he had very good reasons for double-checking the date. Here's the new Dharma symbol, courtesy of lostpedia:
* Was that Ben's flashback or flashforward? I clearly heard a "whoosh" right after Ben convinces Sayid that Widmore's men killed Nadia, which usually signals a flashback. My instinct, however, is that it was a flashforward with one important twist. From Ben's perspective, the flashforward takes place only days or weeks after the murder of his daughter, which is why his anger remains so fresh. In the very near future, Ben will escape the Island conflict by jumping forward in spacetime. I'm guessing he gets that nasty gash on his arm from one of Widmore's men.
* A poster named DJ has an alternate explanation for Ben's wound, speculating that it may relate to Dr. Candle's prosthetic arm and be a byproduct of Ben's jump through time and space. I'm intrigued by DJ's suggestion, which strikes me as highly plausible. Here again, however, the argument makes a lot more sense once you've seen the Orchid Orientation, so I'll reserve further comment until then.
* Ben claimed that it was "very important" that John "survive what's about to happen here." When queried on this point later by Locke, Ben explains that "we have to go to him together," presumably referring to Jacob. I think that's because Ben is desperate to get back in Jacob's good graces and saving Locke is the only way he knows how.
* Faraday mentions that "time is kind of a relative term" on the Island, which explains the paradox of the doctor being alive on the boat but dead on the Island. The question is, could someone exploit this paradox to save the doctor's life, or would the universe course correct to prevent such efforts? I've long believed that Oceanic 815 was supposed to crash in the ocean with no survivors. Jacob somehow exploited the time discrepancy between the Island and the rest of the world to change their fate.
* On a related note, I was struck by apparent invincibility of Sawyer and Claire. Keamy's men were brutally efficient at picking off Karl, Rousseau, and various redshirts at the Barracks. Yet Sawyer dodged whole clips of ammunition with little more than a picnic table and fence posts for protection, and Claire survived a direct hit to her house from a rocket propelled grenade. Their miraculous survival, in marked contrast with the redshirts, makes me think the two still have work to do for Jacob.
* I'm not at all sure Widmore's man killed Nadia. It's entirely possible Bakir was simply shadowing Sayid and left the scene of Nadia's muder in a hurry so as not to be implicated. I could easily see Ben exploiting the situation to manipulate Sayid by casting false doubt on Bakir.
* Keamy has precisely the sort of history of military and mercenary background that I imagine Kelvin had, as well. I could see the latter being recruited by Widmore, too, as I decribe in
I Am Not Alone...
* Ben's panic room cracks me up -- the only thing missing was a little window slit for him to peep at Sawyer briefly before disappearing. I was tickled to learn that the secret room had still another secret room off of it. My guess is that the stone passage leads to some tunnel network utilized by Cerberus, which is why Ben was covered in ash when he returned.
* How creepy was that smile Ben gave after Sayid joined his war against Widmore? I kept thinking of the evil Emperor trying to seduce Luke Skywalker. To complete the metaphor, the blackjack Ben keeps handy at all times is basically his lightsaber.
* The Cerberus system reminded me more than ever of a raging thundercloud, complete with flashes of lightning. Smokey may primarily be an electromagnetic phenomenon, but it clearly operates as cloud capacitor, just like thunderclouds. It grabs people -- no joke -- using
static cling
.
* Ben originally claimed not to know what Cerberus was. When confronted with this obvious lie, Ben countered that Locke could "ask Jacob all about it when we go to the cabin." I take that to mean the Island's ghostly patriarch can communicate with, and perhaps even control, Cerberus to a limited degree. You can read more on my take on Smokey's origins and its relationship with Jacob in the
Lost Bible...
* Ben's late night confrontation with Widmore reminded me of a scene from Alan Moore's graphic novel V for Vendetta where the title character creeps into the bedroom of one of the scientists who created him. Charles mentioned that he knew "what" Ben was. Is it possible the latter was a product of the Dharma Intiative in more ways than one? Perhaps Dharma and Widmore were betrayed by the same psychic test subject they originally sought to create.
* Charles claimed that Ben was the one responsible for Alex's death, and insisted that everything Ben has he stole from Widmore. I believe that Widmore was originally an investor in the Dharma Intitiative. As described in the
Cancer Man's Con
, Ben crossed Widmore twice, first by handing Dharma over to the hostiles, then again by falsely promising to deliver him the Island. Charles is saying Ben brought this on himself through all the cons and betrayals.
* Ben argued that Charles had "changed the rules" by targeting his daughter. Ben also stated that he couldn't kill Widmore, implying this was similarly against the rules. I believe the two are part of a larger fight for control of the future. The rule against killing one another prevents any fuzziness in the timeline that might result from major players dying. The rule against killing offspring prevents combatants from committing particularly heinous acts that might tempt one major player to kill another.
* So who enforces the rules of engagement? Up to a point, the players do themselves, since Widmore and Ben were apparently able to revoke the rule against targeting family by mutual consent. I suspect, however, that the real referees are Chronology Protection Agents like Ms. Hawking and Brother Campbell.
* When Ben threatened Penny, Charles seemed confident that Ben would never find her. Was he bluffing? Perhaps. I wonder, however, if Penny is actually on the Island with Desmond. One of my whackadoo speculations is that Penny will arrive on the Island before the end of Season 4, thereby fulfilling Desmond's vision. So what if she and Desmond stay behind on the Island? Maybe Widmore knows that Ben will have as much trouble as he does getting back. This will set the stage for some collaboration between Ben and other members of the O6.