Best. Episode. Since.
Walkabout
.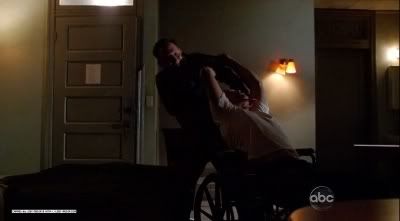 The sight of Ben yanking that electrical cord around Locke's neck was stunning, a dramatic punch to the solar plexus. I was prepared for Locke's suicide, but not his murder. The impact rivaled the moment at the end of Walkabout when we finally realize why Locke is wiggling his gold-tipped toes in wonder after the crash of Oceanic 815. For me, those two scenes will forever define the show -- the emotional yin and yang of Lost.
Ben nearly had me fooled. I missed lots of warning signs in retrospect. One was Zombie Christian's news that Locke was supposed to turn the Wheel. Another was Ms. Hawking's comment that Ben probably lied when he denied knowing about the Lamp Post station. Then there was Ben's callous attitude about what would happen to other passengers on Ajira 316, which mirrored his total disregard for those killed on Widmore's freighter.
What did set my Lost sense tingling was the recent reference to
Expose
. In posts like the
Cancer Man's Con
, I've compared Ben to
Mr. LaShade
, a supposed good guy who turns out the be the Cobra, the main villain on Expose. When David Reyes plopped down with his salami and caviar sandwich to watch an episode of the fictional show-within-a-show, it dawned on me that Ben's good behavior might just be a scam to regain control of the Island.
Something I utterly failed to anticipate was Charles Widmore's strong connection to the Island. I always pegged him as a mere investor in Dharma who coveted the Island for its advanced technology and natural resources. I dismissed suggestions by some of you that Charles might once have led the Others himself. But Widmore's accusation that Ben usurped his leadership has sent my Whackadoo Wheel spinning of its axis with crazy ideas like these:
Whackadoo Idea 4: Becoming Jacob.
My speculations typically assume that Jacob was someone who died in the Island's
past
and now haunts the place. But Charles Widmore's comments about being heavily invested in the Island's future got me thinking. What if Jacob is actually a pivotal
future
figure whose identity has yet to be determined? Perhaps the "chosen one" is the person most likely to become -- or even be reincarnated as -- the Island's patriarch.
Such a scenario would explain why there are so many plausible speculations that Jacob is someone we've met -- e.g., Jack, Locke, Widmore, etc. It would also explain why Horace Goodspeed was building Jacob's cabin during Locke's dream encounter in the woods. Widmore may have funded Dharma in hopes of reclaiming his future status as Jacob from Ben. Come to think of it, maybe Ben's cancer was a sign that Jacob's identity had shifted to someone else.

Whackadoo Idea 8: Snakes vs. Spiders.
Widmore said that war was coming and warned that the "wrong" side might win. This seems to imply Lost is a simple
Manichaean
conflict between good and evil. Like many of you, however, I remain skeptical of the battle lines as they appear. For all its references to classical and modern literature, Lost is thoroughly postmodern. I expect its conflict to transcend simple oppositions like good vs. evil.
I still believe that Charlie Widmore's war resembles the temporal "Change War" in The Big Time. As we discussed in my
Jughead recap
, Fritz Leiber's sci-fi classic revolves around a conflict between two time-traveling factions -- the Snakes and the Spiders -- to control the future. I suspect there are similarly two factions on Lost, each fighting to effectuate its preferred version of events, albeit constrained by the law of course correction.
The closest I see Lost getting to good vs. evil is a conflict between order and chaos. As in the Dark Tower series, the battle may pit those walking the "beam" of fate against others seeking to "break" that beam. Perhaps the Spiders are working to break the Valenzetti Equation (e.g., via the "Spider" Protocol) while the Snakes seek to prevent changes to the "picture on the box" by effectuating the Valenzetti (hence Ms. Hawking's Ouroboros brooch).
Whackadoo Idea 15: Reverse Reincarnation.
Ben has been rolling around in a van with an anagram for "reincarnation" on the side. Many, myself included, assumed this referred to Locke's impending reincarnation on the Island. Technically, however, Locke was resurrected, not reincarnated. Nor can we just attribute it to the writers' misunderstanding -- they used the term correctly when Locke talked about his foster sister being reincarnated as a dog back in S1.
That has me wondering if the reincarnation reference was actually to the van's driver (i.e., Ben) not its cargo. Of course, reincarnation typically entails people dying then being reborn at some
future
date. But what if Ben has somehow managed to
reverse
reincarnate himself
backwards
in time? Indeed, given his extensive foreknowledge of events, I sometimes wonder if he's an agent in the Change War who was sent into the past to disrupt the course of fate.
If you really want to follow me down the whackadoo well, consider the possibility that Ben is actually a turncoat who started out working for the Spiders but now ostensibly serves the Snakes. I say "ostensibly" because I'm with those who say Ben's secret agenda has always been to create a timeline in which Emily Linus and Annie still live. All of this would explain why Zombie Christian and Ms. Hawking don't seem to trust Ben fully despite his service of their ends.
Whackadoo Idea 16: Hydra International Airport.
Speaking of Ben's foreknowledge, I suspect he's been planning for his return to the Island since before he left. We know that Ajira 316 landed on Hydra Island, where the Others were building a runway. The purpose of this runway was never specified(Juliet joked it was for the aliens) but I'm guessing Ben had it built knowing he might one day need to return via a plane crash -- without the Island's protection.
I'll bet Ben has been hearing from Richard for quite a while how Locke would eventually become leader of the Others. This didn't sit well with Ben, who has been scheming just as long to prevent Locke from taking control. When Ethan reported shooting someone claiming to be his leader, Ben knew that time was short. His contingency plan included securing a number of fake identities and starting construction of the runway on Hydra Island.
Whackadoo Idea 23: Loop, Dude, Loop.
I was curious if we would see what happened to the rest of the passengers from Ajira 316. One popular speculation is that time is looping on Lost. I believe that history is indeed recurring on the Island, but
not
in the sense of a temporal causality loop. Rather, as the crash of Ajira 316 suggests, the same basic cycle of events is repeating itself with different participants. The players change, but the game remains the same.
Seeing the survivors of Ajira 316, it was hard not to think back to the crash of Oceanic 815. The sense of deja vu was reinforced by several shots of Locke gazing into the ocean, pondering the miracle of the Island, just like he did after the first crash. Some of this was obviously for dramatic effect, but I'll be watching closely to see what other parallels emerge. There's just too much evidence that loops are important to Lost. Like Hurley says, "loop, dude, loop."
Whackadoo Idea 42: A Promise Is a Promise.
That was Ben's reply when he learned about Locke's promise to Jin. And really, no quote sums up the Benjamin Linus credo better than that. The man is all about living up to the letter, but not necessarily the spirit of promises, rules, etc.. Not suprisingly, therefore, Ben unapologetically circumvented the terms of Locke's pact by telling Sun himself that Jin was still alive.
Ben's murder of Locke reflects this credo, too, but with an interesting twist. Our own
neaux
speculates below that Ben knew the Island would be in serious trouble if Locke committed suicide. I'm not prepared to ascribe noble motives to Ben, who may simply have acted out of a self interested desire to return to the Island. Still, I can't help thinking of how Richard "saved" Locke by giving him the means to manipulate Sawyer into killing Anthony Cooper.
Whackadoo Idea 108: The End of Abaddon?
Matthew Abaddon may (or may not) be dead but I'm confident we haven't seen the last of him. I'm still waiting for a Charles Widmore flashback in which Abaddon, looking the same age he does now, visits the freshly banished Widmore following his turn of the Donkey Wheel...
As always, you're welcome to post anonymously,
but please identify yourself somehow
, so I can distinguish between anonymous posters. Thanks!