With the much unfairly maligned Expose' (razzle dazzle!) I believe a huge piece of the mythological puzzle has fallen into place. It turns out that Helen Lovejoy and Whitney Houston were right where Lost is concerned -- it's all about the children.
The big clue is the story within a story, a device typically used to foreshadow plot and highlight themes. Two great examples of this device at work are Tales From the Black Rock, the comic that a black child named Bernard reads throughout Watchmen, and the Grand Inquisitor, the story that Ivan relates to Alyosha in the Brothers Karamozov. In these works, which both have been referenced on Lost, the story within a story serves as a metaphor for characters' motivations and conduct. Like others (e.g.,
Dr. Suds
) I believe the same is true of Lost.
To review, Lost's story within a story focused on Mr. LaShade, a "Charlie" character whose team of sexy "Angels" could have been drawn straight from the mind of Homer Simpson (but Marge... crime SOLVING strippers!). In the Expose' season finale, Agent Corvette -- played by guest star Nikki -- realized that LaShade was actually the Cobra, a notorious villain the team had spent the past four years chasing. The key to Corvette's realization was her discovery that LaShade had misappropriated money that was meant for "the orphanage."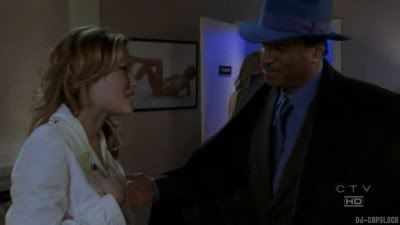 A lot of speculation thus far has focused on the identity of Lost's LaShade/Cobra, which I agree is key -- I'll return to that question shortly. For now, I want to emphasize the orphanage aspect, which other interpretations have tended to ignore. I believe this is a mistake given the clear importance of children generally, and their adoption specifically, to the show. Locke, Kate, Sawyer, Walt, and likely Alex were all adopted by someone, at some point. Claire, of course, was on Oceanic 815 to give Aaron up for adoption in America.
This emphasis on children is reflected in the Others' general willingness to kidnap children like Alex, and to commit murder in pursuit of certain special kids like Walt and Aaron. Children also seem relevant to the Island's backstory. Benjamin Linus claims to have been born there, and I've speculated previously that he might well be the child of Adam and Eve and/or Gerald and Karen DeGroot. Even the Dharma Initiative seems to have been home to children at some point, as evidenced by the nursery in the Caduceus Medical Station (i.e., the Staff).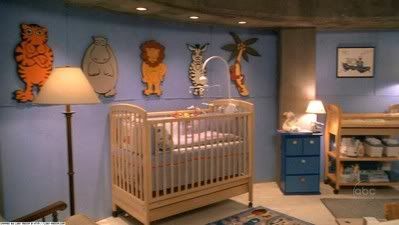 That last point strikes me as particularly relevant because the Staff may also have played a role in Dharma's ultimate demise. The Blast Door Map states that the Staff likely "divested from [the] project in 1985 following AH/MDG Incident." The Map further suggests that the Staff may have been "abandoned due to AH/MDG Incident of 1985
or
possible catastrophic malfunction of Cerberus system." I read these notations to mean that the Staff was probably the epicenter of the AH/MDG Incident, a Cerberus malfunction, or both.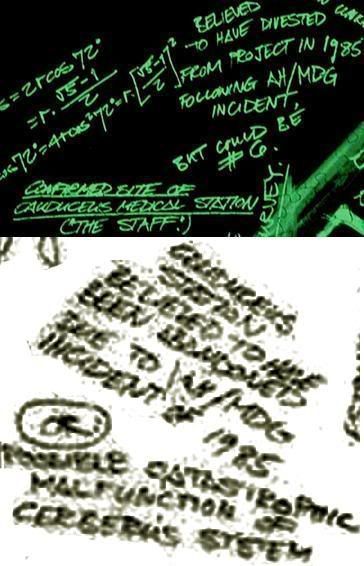 I'm guessing, moreover, that the foregoing events related somehow to children subconsciously channeling the Island's energies. I've argued before that Walt's metaphorical "bad twin" subconsciously caused Susan's fatal blood disorder because he was jealous of her relationship with Brian. Perhaps the children of Dharma, especially those born on the Island, did similar damage on an even larger scale, subconsciously causing the "Cerberus malfunction" and animal revolts. It may even be that their
fears and nightmares literally manifested
...
If so, the "AH/MDG Incident of 1985" could represent a conflict within the "project" over the Staff children's fate. Most likely, some of the scientists decided that the kids should be terminated. I'm guessing that this decision caused the Initiative to split for good, as the Staff scientists seceded to protect the children. The remaining scientists attempted to purge the secessionists, who retaliated against their attackers. Following this conflict, Jacob began recruiting exceptional people to protect and train the orphaned kids to control their powers.
At some point, however, some of the children were removed from the Island. Perhaps they were evacuated during the chaos of the purge. Or maybe Jacob was Himself forced to flee the Island and hid a few kids for safekeeping like Obi Wan Kenobi in Star Wars. Along related lines, I wonder if Ben usurped Jacob as leader of the Others like Anakin Skywalker/Darth Vader. However it happened, Jacob left behind a master list of the names of these "lost" children of the Island -- Jacob's List -- which includes at least some of the survivors of Oceanic 815.
All of which brings me back to the identity of Lost's LaShade/Cobra equivalent. An obvious answer is Jacob -- but who is He? I've speculated elsewhere that
Jacob might be an alias for Alvar
, a scenario that still strikes me as plausible. Another intriguing possibility for Him is Christian Shepherd, whose medical background and comments that Jack is a "a good man, maybe a great one" could hint at some past association with the Staff secessionists. I personally would welcome a Christian resurrection in the Season 3 finale.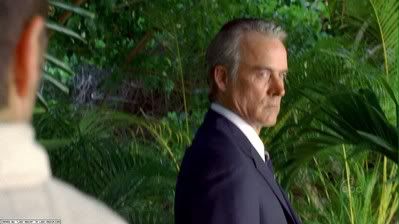 In closing, however, I offer a final LaShade/Cobra candidate for your consideration -- one that doesn't depend on the identity of Jacob. I mentioned previously that Ben might have usurped His leadership at some point. I'm guessing, moreover, that most of the Others have no idea that Ben helped orchestrate Jacob's departure -- just that He's gone and left Ben in charge of the orphanage. Maybe Ben told them that Jacob was absorbed by the Island or went in search of the children on His list. In this scenario, Ben is the Cobra and Jacob a mere Corvette.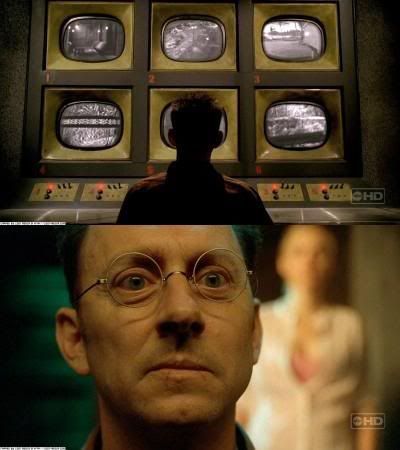 Like the Wizard of Oz, Ben maintains control over the Others through a combination of lies about Jacob and leftover Dharma technology. Perhaps he tells them that Jacob is watching and will someday return. In the mean time, the Others continue to train children who are brought to the Island. This training apparently involves periodic brainwashing sessions in the Room for rebellious children like Walt and Karl. It may even be that Ben uses this brainwashing to harness the children's power to channel the Island for his own nefarious purposes.
That power could conceivably include control over Smokey, which sets up an intriguing possibility. There are hints that Smokey is a body snatcher and uses corpses to impersonate the dead. If Christian Shepherd really is Jacob, and Ben secretly does control Smokey using the kids, then the arrival of his body on Craphole Island presents a remarkable opportunity for Ben, who can now use Smokey to trick his people into believing that Jacob has returned. If Christian reappears on the Island, therefore, don't be so sure it's really Him...