WARNING: SPIDERMAN 3 AND COMIC SPOILERS
Just in time for Spiderman 3, a quick speculation regarding Smokey, Mikhail, and the sonic fence. One of my favorite Spidey storylines involves an alien symbiote named
Venom
, who also figures prominently in the film. Venom survives by physically and mentally possessing hosts, who receive enhanced physical abilities in return. Spiderman originally encountered Venom as a black liquid that flowed over his body, actually forming a new costume as it merged with him. I think Smokey may be similarly symbiotic, seeding hosts like Mikhail with its constituent particles and enhancing their strength and health at the cost of mental slavery.
The big clue to this scenario is Mikhail's fake "death" from the sonic fence in Par Avion. Recall that Mikhail thanked Locke for pushing him through it -- a trip that apparently left the former unconscious but not dead. Perhaps Mikhail was merely happy that Locke had provided him with the opportunity to escape our Losties and whatever fate awaited him (and them) in Otherville. I suspect that's partly true but that the full truth is more complex. In Spiderman, the Venom symbiote is sensitive to sonic disturbances, which is how Spidey ultimately purges it from his system. In one memorable scene, having been tricked into re-merging with Venom (comic and movie spoilers -- highlight to read)
Spidey uses the sound of ringing church bells to force a separation.
If the example of Venom is any guide, the sonic fence may actually have purged the Smokey symbiote from Mikhail's system, freeing him from the Island's hold and explaining his gratitude. Perhaps this is also why Mikhail was so intent on stealing Naomi's radio -- he senses this is his chance to escape the Island at last. More generally, I like this theory because it links back to pre-existing speculations that Smokey is a body snatcher (e.g., of Christian and Yemi). It appears, however, that a significant portion of the Smokey symbiote is required to reanimate the dead. By contrast, I'm guessing that exposure to even a few microscopic particles can trigger possession of the living.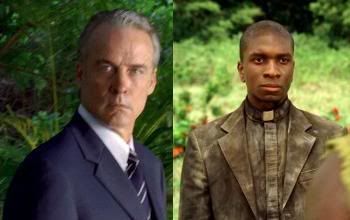 To clarify, I'm not necessarily suggesting that Smokey is an extraterrestrial, though I also don't mean to rule out that scenario. It's possible that a meteor or comet crashed into the Island, bringing with it the Smokey symbiote. Maybe, like Charlie cracking the hornets' nest in Season 1, Dharma unleashed Smokey in the Incident, necessitating the sonic fence. Still, the alien possession scenario has been done to death. In my opinion, a somewhat fresher angle would be a swarm of symbiotic artificial intelligence -- i.e., a dark take on
technological singularity
. Maybe Smokey became conscious from exposure to the Island's energies, possessing the dead and living alike in service of some agenda -- but whose and what?
Locke referred to Smokey as the "eye" of the Island (and Danielle described it as a security system) which I've always interpreted to mean that Smokey is merely a tool. I still think it's possible that some consciousness (e.g., Magnus Hanso's or the Fourtoe's) trapped in the Island's electromagnetic field has seized control of Smokey. But I remembered recently that many cultures believe the eyes are windows to the soul. In light of this speculation that Smokey is an artificially intelligent symbiote, I'm wondering if Locke meant that Smokey has merged somehow with the Island, perhaps by possessing most creatures great and small. Like an Old Testament deity, moreover, the Smokey symbiote seems highly judgmental, demanding total submission from its prospective hosts -- on penalty of death.