Whew! It's been a busy few weeks for me workwise, which is why I haven't done your excellent comments justice. But first, big thanks again to
Doc Jensen of EW.com
for mentioning Eye M Sick in his column. We're all big fans of Doc J over here and I think he's hit the nail on the head with his speculation that Ben has flashes of the future. That explains one of my all-time favorite scenes on the show -- Ben's creepy conversation with Kate over breakfast where he mentions that "the next two weeks will be very unpleasant."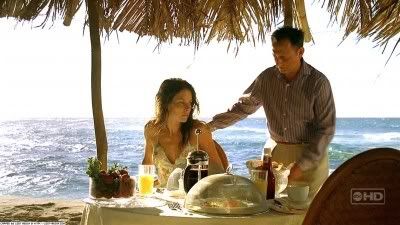 Speaking of Kate, I had a bit of a brainstorm recently about who Kate's "he" (as in, "he'll be wondering where I am") might be. After the finale aired, my first guess was Tom Brennan (i.e., Kate's childhood friend) who was miraculously alive in the reality to which they'd returned. Others suggested Kevin (i.e., the cop Kate nearly married) which would also be intriguing. Still another possibility that folks have raised is Sawyer, which strikes me as plausible but somehow wrong -- and not because I'm a "Jater".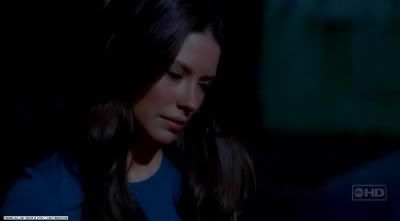 So who is Kate's "he" if not one of those three? Remember back in DOC when Juliet recorded a message for Ben that she was "still working on getting samples from the other women" and that she "should have Austen's soon"? Those samples presumably were never collected, but I think Kate Austen is pregnant -- perhaps from her sweaty encounter with Sawyer in the bear cages. Flash forward several years into the future. The "he" who will be "wondering where I am" is Kate's child, who is now around two years old...