Remember what Ms. Hawking said to Desmond in Flashes Before Your Eyes?
She told him that the "universe, unfortunately, has a way of course correcting." Many, myself included, routinely refer to course corrections without actually defining what we mean. In the 3rd Anniversary Podcast, however, the writers stressed that the Lost "rules" of time travel were summarized by Ms. Hawking. They also emphasized that the "future is the future" and that there are no "alternate" or "parallel" futures on the show. With those comments in mind, I thought it would be useful to analyze and discuss what precisely Ms. Hawking might have meant. Her first comments on the subject come when Desmond decides to buy the engagement ring for Penny:
MS. HAWKING: Well, I know your name as well as I know that you that don't ask Penny to marry you. In fact, you break her heart. Well, breaking her heart is, of course, what drives you in a few short years from now to enter that sailing race -- to prove her father wrong -- which brings you to the island where you spend the next 3 years of your life entering numbers into the computer until you are forced to turn that failsafe key. And if you don't do those things, Desmond David Hume, every single one of us is dead. So give me that sodding ring.
Careful readers will note an apparent tension between Ms. Hawking's comments and those in the Podcast. She seems to be referring to the implosion of Swan -- if Des isn't there to activate the Fail-Safe, the whole world will be destroyed. Yet, if the future is the future, and the universe inevitably course corrects, why does it matter what Desmond does? As Homer Simpson might say, can't someone else do it? If not, won't the universe just frustrate Des regardless, sending him to the Island whether or not he proposes to Penny? Things get even curiouser when we consider Des and Hawking's conversation following the demise of the man in the red shoes.
DESMOND: Oh, my God. You knew that was going to happen, didn't you? [she nods] Then why didn't you stop it? Why didn't you do anything?

MS. HAWKING: Because it wouldn't matter. Had I warned him about the scaffolding tomorrow he'd be hit by a taxi. If I warned him about the taxi, he'd fall in the shower and break his neck. The universe, unfortunately, has a way of course correcting. That man was supposed to die. That was his path just as it's your path to go to the island. You don't do it because you choose to, Desmond. You do it because you're supposed to.
Here again, Ms. Hawking's comments are puzzling. Taken literally, they seem to suggest an inevitability to Desmond's fate that's at odds with her previous warning that "every single one of us is dead" if he doesn't go to the Island, push the button, and turn the key. They also seem to render moot the entire reason for her intervention. Why even bother if the future is the future and Desmond will do what he's supposed to do regardless? The real purpose of their exchange is, of course, to set the stage for Desmond's dilemma concerning Charlie's inevitable demise. As the former tells the latter at the end of FBYE:
DESMOND: When I saw the lightning hit the roof you were electrocuted. And when you heard Claire was in the water you -- you drowned trying to save her. I dove in myself so you never went in. I've tried, brother. I've tried twice to save you, but the universe has a way of course correcting and -- and I can't stop it forever. I'm sorry. I'm sorry because no matter what I try to do you're going to die, Charlie.
Desmond's dilemma reaches a head in Catch-22, when his flashes suggest he will be reunited with Penny -- but only if he lets Charlie die.
DESMOND: I saw a sequence of events. Things that are gonna happen.

HURLEY: What you see?

DESMOND: It was, it was like a sorta jigsaw puzzle. Only I didn't have the picture in the box so, I dunno how the pieces fit exactly but, but one of the pieces, the first one...

[Desmond sees the image of Hurley picking up the cable in the sand]

DESMOND: ... It was you, pulling the cable out the sand.

HURLEY: So what are the other pieces?

DESMOND: If I tell you that, it'll change the picture in the box.

HURLEY: So what? Isn't that the point? Preventing something bad?

DESMOND: Not this time.

HURLEY: So you're not trying to stop something from happening, you exactly want it to happen.

[Desmond sees himself and Penny posing for their photograph, of him wiping Penny's tear at the stadium, of her kissing him in their flat]

DESMOND: More than anything.
CHARLIE: You think its her don't you?

DESMOND: Who?

CHARLIE: Your girl. Penny. You think its actually her who bailed out the helicopter.

DESMOND: Earlier I hoped it. Now I know it.

CHARLIE: Why didn't you tell us?

DESMOND: Would you come if I had?

CHARLIE: Of course. Why wouldn't I?

DESMOND: I didn't wanna tell you because, I didn't want anything to change.

CHARLIE: Fair enough. Look if whatever you're seeing leads to your girl getting us rescued, why would we want to change anything, right?

DESMOND: [Smiles] Right.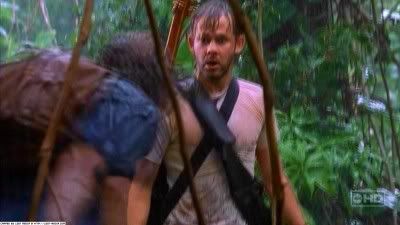 CHARLIE: You shouted duck. You knew, even before we set off, you knew all this time didn't you?

DESMOND: Aye.

CHARLIE: Well then why didn't you say anything.

DESMOND: Because if I'd told you the truth you wouldn't have come.

CHARLIE: Oh and you needed me to come. Cause I was part of your vision. You thought that the only way you could get your girl back was if I took an arrow in the head. You would have sacrificed me!

DESMOND: If the flashes don't happen exactly how I saw them, the picture changes. I was supposed to let you die Charlie.

CHARLIE: What's that supposed to mean?

DESMOND: It means its bloody pointless. I keep saving your life, and what good has it done? Its just gonna keep happening again and again, maybe that's the point eh? Maybe its a test.

CHARLIE: Test?

DESMOND: Like God, testing Abraham, except I failed, because I changed what I saw.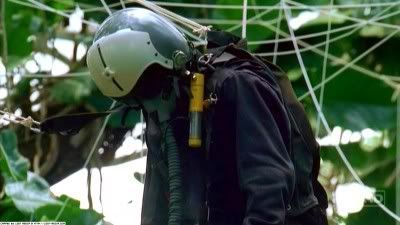 HURLEY: She's alive!

[Desmond rushes toward them]

DESMOND: Stand back! Get away from her! I'm here, I'm here Penny.

CHARLIE: Jus, be careful.

DESMOND: Just get off, Charlie. Sorry Penny, I'm sorry.

[Desmond pulls off the helmet to reveal not Penny, but a different woman]

WOMAN: Desmon...
Desmond clearly believed that the parachutist was supposed to be Penny. By intervening to save Charlie's life, Des apparently changed "the picture on the box," which resulted in Naomi taking Penny's place. Assuming Desmond was correct, it's hard to square the events of the show with the podcast's unequivocal statement that the "future is the future." The same is true of Desmond's subsequent conviction that Charlie must die in the Looking Glass to effectuate their rescue. Once again, we're left wondering why, if the universe inevitably course corrects, it makes any difference whether Charlie lives or dies.
DESMOND: What I saw, Charlie, was Claire and her baby getting into a helicopter. A helicopter that lifts off, leaves this Island.

CHARLIE: Are you sure?

DESMOND: Aye.

CHARLIE: A rescue helicopter, on this beach?

[Desmond nods]

CHARLIE: This Island, that's what you saw?

[Desmond nods again]

CHARLIE: We're getting bloody rescued! I thought you were gonna tell me I was gonna die again!

DESMOND: You are, Charlie.

CHARLIE: Wait, what?

DESMOND: If you don't, none of it will happen. There won't be any rescue. I'm sorry, brother, but this time, this time you have to die.
Stated another way, Charlie's sacrifice seems rather pointless unless it's at least possible to change the "picture on the box." That leads me to believe the concept of course correcting is more complex than a literal interpretation of the podcast would suggest. Perhaps the "future is the future" in the sense that the general outline of events can't be changed, but some of the minor details (e.g., specific names and faces) can through manipulation of course correction. That's basically what Desmond did with Charlie, postponing the latter's demise until that occurrence became part of a causal chain of events resulting specifically in the helicopter rescue.
Here's another example of how changing the "picture on the box" might work in actual practice. Let's say it was inevitable that the survivors of Oceanic 815 would be rescued by someone, some time, thanks to Desmond's conversation with Donovan in FBYE. Perhaps Penny was in a race with the Hanso Foundation and/or her father to find the Island first. If Charlie had died in accordance with Desmond's vision in Catch-22, Penny would have won the race and been reunited with her love. But because Des saved Charlie from Rousseau's booby trap, the universe course corrected, changing the picture on the box so that Naomi and Not Penny's Boat are now their rescuers.
All of which has me hoping against hope, improbable as it admittedly now appears, that Christian Shepherd is alive and well due somehow to Desmond's changes to the past. Long live the Christian resurrection!