I've long been struck by the messianic overtones of Lost. I suspect, for example, that Dharma was trying to scientifically engineer a savior for humanity -- the Doctor Manhattan Project. I also speculate that the Others covet psychic children like Aaron and Walt for their messianic potential. Aaron seems particularly significant in this regard. He shares his name with the apocalyptic Messiah of Aaron predicted by the Dead Sea Scrolls. His lullaby -- Catch A Falling Star -- evokes the messianic Star of Jacob foretold in the Book of Numbers. That latter prophecy brings me to the other main point of this post. What if Aaron descends directly from the mysterious Jacob himself?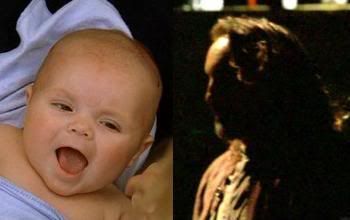 Let's begin with some background. One fascinating aspect of the Bible is the way New Testament accounts of Jesus take great care to depict him as the fulfillment of various Old Testament prophecies concerning the Messiah. Among the most important of these messianic prophecies is the aforementioned "star out of Jacob," which finds New Testament parallel in the star over Bethlehem that signals the birth of Jesus. Whether by coincidence or design, Aaron Littleton (of Bethlehem) is also well positioned to fulfill some of the very same prophecies, particularly if he's the descendant of Jacob. So how might Aaron be related to this ghostly Island patriarch?
I've raised one possibility before in posts like Extinction or Evolution. Maybe Jacob now exists as bioelectromagnetic energy and can "possess" women who catch his eye (of the Island) thereby causing parthenogenetic pregnancies. Emily Locke was a liar and a mental patient, but she did claim that John (the Baptist) was immaculately conceived. Jin's shady mother couldn't say for certain who his daddy was, but she seemed pretty sure it wasn't the humble fisherman who actually raised him. Walt was reading a chapter on cuckoos, which lay their eggs in other birds' nests, and Ms. Klugh made a point of asking Michael if he was Walt's biological father.
Aaron may similarly be one of Jacob's immaculately conceived "children." If so, his case features an added element of the bizarre because he may simultaneously be Jacob's great-great-grandson. Just as the New Testament takes pains to trace Jesus' genealogy back to the Biblical patriarch Jacob, so too has Lost revealed some interesting details about the lineage of Aaron Littleton. We now know his mother Claire is the illegitimate daughter of Christian Shepard and thus the half-sister of Jack. It's certainly possible this connection was revealed purely for the dramatic twist, but I suspect they're building to something even bigger.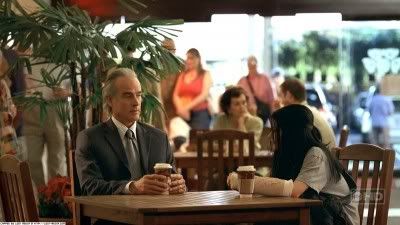 Jacob was a Shepard, and I don't mean he tended sheep. That could explain Jack Shepard's strong and immediate connection to the Island. I even wonder if Jack was actually the first survivor scanned by Smokey -- i.e., in the Pilot when he was separated from Charlie and Kate. I'm guessing that was also Jacob who led Jack to Adam and Eve's caves using Smokey. I can't shake the sense that Locke was Jacob's second choice after his great grandson proved too committed a man of science to mentor Baby Aaron appropriately. If Ben's comment about technology is indication, Jacob is a man of faith himself. It probably also helps that Locke is so amenable for coercion.
The messianic references highlighted herein are merely the foot of the four-toed colossus. I could go on and on about the significance of the fishes in the Swan Mural or the Horace/Horus pun. Instead, I'll close by posing a final chilling question for your consideration. The psychic Richard Malkin claimed that "great danger" surrounds Aaron and insisted that Claire's "goodness" must be an influence in the child's development. Many believe that Malkin was a faker, but I strongly disagree. Malkin makes me wonder whether these psychic children are innocent Chrysalids or sinister Midwich Cuckoos. Are they little saviors of the world or monsters who will end it?