Thanks to fellow Lost blogger
Dark UFO
for pointing us to the
latest installment
of the official Lost Book Club. In a new video, Team Darlton plug James Joyce 's
Ulysses
(an even more referential work than Lost) and reveal that episode 5:7 will be titled "316." At the very end of their video, a new Dharma symbol flashes on-screen for a split second.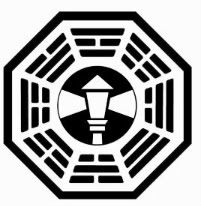 I believe this new symbol is a lantern, which may also be the name of the station it represents. The graphic evokes the lamp post in the woods marking the entrance to Narnia in the classic series by C.S. Lewis. Nor would this be the first such reference on Lost. As we've discussed before, the name Charlotte Staples Lewis seems a clear shout out to the author (i.e.,
C
live
S
taples Lewis).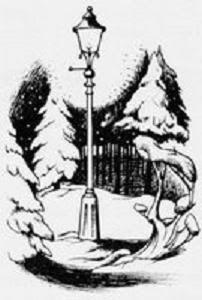 The Narnian symbolism fits well with the episode title (i.e., 316) also revealed by Darlton. Regular readers of this blog may recall my post
Purple Sky
wherein we discussed the possibility that moving the Island would reorient it in spacetime "such that a bearing of 305 no longer provides safe access." I'll bet dollars to doughnuts that 316 is the new bearing for reaching the Island safely.
That, in turn, raises another possibility we've kicked around recently. In the
Island Needs a Constant
, I suggested there might be another Dharma station, either on the Island or somewhere else across the planet, that the Oceanic 6 must find to get back. How fitting would it be if this hypothetical station turned out to be none other than the Lantern?
UPDATE (December 14, 2008):
A poster on the Fuselage named
Founder
raises another plausible explanation for the title 316. It could refer to the number of people who purportedly died in the crash of Oceanic 815 -- i.e., 324 passengers minus the eight who initially survived impact. The episode might therefore deal with the unraveling of the lie told by the Oceanic 6.