One of the more provocative speculations this off-season has been
Doc Jensen's
that turning the Frozen Donkey Wheel moved the Island into the past. This possibility got a boost from recent promos apparently depicting Daniel Faraday encountering an intact Swan Station. I'm all in favor of such a scenario, which would be a great way of exploring the Dharma Initiative. But because this is Lost, I'll bet there's a twist. What if the Island itself is now unstuck in time?
All indications are that the Island is accessible via one or more wormholes. People passing through the wormhole(s) risk becoming unstuck in time like Desmond and Minowski. This presumably is what Ethan meant when he warned Juliet that the trip to the Island can be "intense." Turning the Frozen Donkey Wheel apparently moved the Island through a wormhole to whenever they are now. If people can become unstuck by wormhole travel, maybe the Island can as well.

But what could it mean for the Island to be unstuck in time? In
the Constant
, Desmond's consciousness jumped between various points in his past. I'm guessing that an unstuck Island will do much the same. Its "consciousness" will oscillate between key periods in the Island's history. People and things from different times will appear, interact, then disappear like ghosts. I have in mind somethng like Jacob's cabin, which may already be similarly unstuck.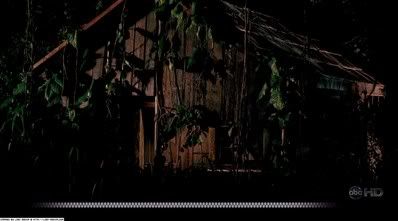 Here's where things get really whackadoo. According to the Constant, people unstuck in time must find someone or something to reorient themselves. Desmond's constant was Penny; Dan's is apparently Desmond. In the case of Jacob's cabin, I'll bet that ash-like circle serves as a kind of temporal anchor. I believe the Island's constant was the Swan Station until it imploded. That may even be why Swan was originally built -- the Incident unstuck the Island previously.

If so, the Island needs a new constant to resolve its temporal confusion. Maybe that's the Oceanic 6, as a group, which is why they all need to return together. I'm guessing, however, that there's another Dharma station, either on the Island or somewhere else across the planet, capable of exerting the same stabilizing force the Swan once did. Finding it will be the key to the Oceanic 6 getting back to the Island...