In anticipation of the Variable, which marks 100 episodes of Lost, here is my take on what I like to call the "Desmond Exception." According to Daniel Faraday, the general rules of time travel include whatever happened, happened...except for Desmond David Hume. But what exactly makes Mr. Hume this miraculous exception to Faraday's rules? The answer touches upon quantum mechanics and existentialism, two subjects that seem increasingly central to the show. To understand why, it helps to have a brief background in some relevant philosophy and science.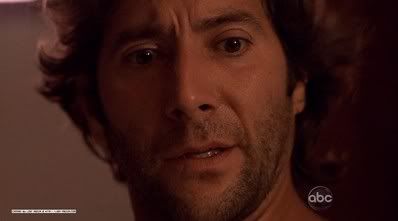 When I studied philosophy, the apparent conflict between free will and determinism fascinated me. I was surprised to learn that most philosophers (including David Hume) have a very limited conception of free will. I had assumed that true freedom must mean stepping outside the causal chain of events to make a choice that is not the effect of any prior cause. I never considered Hume's claim that such an undetermined choice would be completely random. There's a great riff in
Waking Life
about why probabalistic quantum mechanics, despite its indeterminism, doesn't really help us understand freedom for this very reason:
What Waking Life doesn't mention is that some existentialists actually celebrate freedom in this random and irrational sense. Nietzsche espoused a kind of "radical freedom" that finds expression in Sartre and Heidegger's writings, as well as Kierkegaard's famous "leap of faith." Under this view, you liberate yourself from history's influence by acting contrary to prior reason and experience to embrace a totally new system of beliefs and assumptions. That's basically what Jack did in 316 by becoming a man of faith for purposes of returning the Island. Remember the shoes?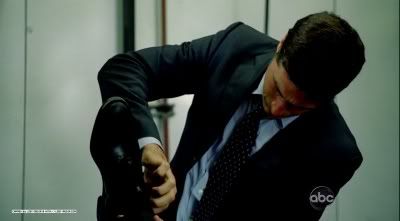 Really, though, nothing on Lost exemplifies radical freedom better than the Desmond Exception. His physicist friend Donovan put it perfectly: "The wild card part is unpredictability -- run the same test 10 times, you'll get 10 different outcomes." Des has become an unpredictable wild card in the otherwise orderly operation of destiny, analogous to
the Mule
in Isaac Asimov's Foundation series. Chronology Protection Agents like Ms. Hawking have been watching him because his deviations from whatever happened risk randomly changing the "picture on the box" of history.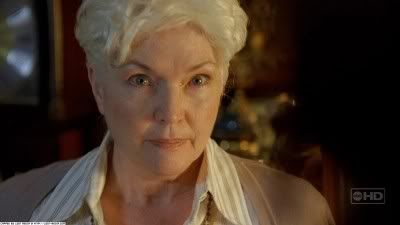 So how did Desmond gain this miraculous ability? It has something to do with bathing in the Island's exotic energy following activation of the Fail-Safe. In the
Key to the Whole Game
, I suggested that the Island is a place where the rules of quantum mechanics, which usually apply to very small things, govern everyday existence at a macroscopic level -- like in physicist Brian Greene's Quantum Cafe. As we discussed above, quantum mechanics entails indeterminism. That's why DHARMA chose the Island for their efforts to alter the Valenzetti Equation's grim mathematical prophecy.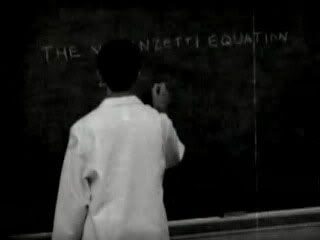 That may also be why DHARMA -- or at least the writers -- chose a black swan for the Initiative's most famous symbol. The
Black Swan theory
, as articulated by Nassim Nicholas Taleb, describes the type of rare and unpredictable event -- e.g., the rise of personal computing or the start of World War I -- that alters the course of history. The name refers to the seemingly impossible coming to pass -- all swans were assumed to be white until the 18th-century discovery of black swans in Australia. DHARMA sought to break fate's harsh decree by using the Island to create a Black Swan event.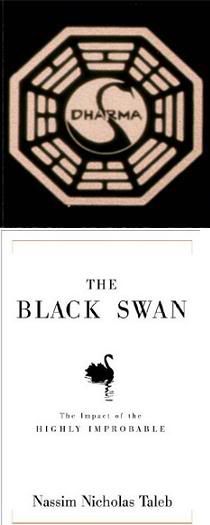 Desmond, in others words, is not the only exception to the rules of time travel. The Island itself is also a variable in destiny's equation. What makes Des miraculous -- perhaps uniquely so -- is that he's the living embodiment of this exception. (In that regard, he resembles Miles, whose ability to scan minds makes him a kind of living version of Smokey.) The original DHARMA's efforts were hindered by the need to bring key players to the Island. By contrast, Des can go where he wants limited only by the law of course correction, which minimizes the effects of his deviations on history.
This makes Desmond a powerful but potentially dangerous piece in whatever game Ben, Widmore, and DHARMA: TNG are playing. I've
previously discussed
the undesirable ways that Des changed the picture on the box by delaying Charlie's death. Faraday's attempt to exploit the Desmond Exception backfired as well with Ben mortally wounding Des. To paraphrase Chekhov, however, you don't introduce a gun unless you plan to shoot it. By the end of Lost, therefore, I predict the Desmond Exception will yield some kind of causal paradox -- or a parallel timeline that avoids it.
So, there you have it -- the Desmond Exception in a nutshell. Ago gratias tibi to Team Darlton for 100 mind melting episodes of Lost! As always, I welcome you all everybody to post anonymously,
but please identify yourself somehow
, so I can distinguish between anonymous posters. Thanks!