I don't usually report on spoilers. Recently, however, a deep throat within the Lost production empire clued me into a casting spoiler with some potentially interesting implications for the direction of the show. I have it on good authority that
Patrick Fischler
of AMC's critically acclaimed
Mad Men
will be playing a character in episode 5x08, which is currently filming in Hawaii.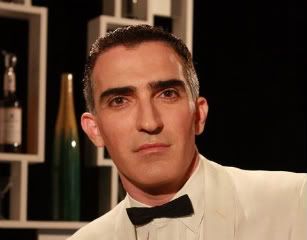 Fischler is an extremely talented actor whose work on Mad Men was recently praised in a
New York Times Magazine story
about the show. My source was uncertain what role Fischler would play on Lost, but I do have my own speculation. Something about Fischler's nervous energy reminds me of Daniel Faraday, who's so ably portrayed by Jeremy Davies.
That brings me to the above-mentioned implications for the direction of the show. The
casting call for episode 5x08
mentions a "[s]mart, hippy-ish, well-trained doctor who finds himself thrown into a situation outside of his medical experience and has to adjust." Many, myself included, have been hoping the hippy reference means we'll be seeing more Dharma flashbacks this season.
The Fischler spoiler supports this speculation, albeit indirectly and with some inferential leaps. Remember the recent
Comic-Con video
wherein we met Dr. Pierre Chang? The voice off-camera who converses with Chang sounds an awful lot like Daniel Faraday. At the time, I suggested that Dan the Man might eventually travel back in time, becoming Chang's "reliable source."
Now, however, I have to wonder. What if Fischler, who reminds me of Daniel Faraday, will instead be playing his father, a Dharma Initiative doctor?
UPDATE:
I've learned that Fischler will
not
, in fact, be playing the hippy-ish (hopefully Dharma) doctor in episode 5x08. Instead, he will be one of the two characters in "corporate security," though I'm unsure which. Either way, it looks unlikely he'll be Daniel Faraday's daddy. Oh well, it was a great speculation for the 24 hours it lasted...