Sorry for the delay in posting. Apparently, the Island doesn't want me blogging about this critical episode in its mythology, because I lost my notes on Jughead twice -- the first time about a quarter of the way through rewatching, and then again just as I was finishing. D'oh! Needless to say, I sympathized with Locke's frustration at not being able to complete his conversations with Ricardus Alpert. But not even the Island can stop me from dropping this little bombshell (groan...) on you all.
In my post
Lost Time
, I suggested that a book called
The Big Time
might be a major influence on Lost. The premise of Fritz Leiber's sci-fi classic is that two time-traveling factions (the "Snakes" vs. the "Spiders" -- the rest of us are "Zombies") are battling in a temporal conflict called the Change War. As that name suggests, the combatants fight to alter key events in history. Their efforts, however, are constrained by the "Law of the Conservation of Reality," which says that changing the past never alters the future more than the barest minimum possible.
The Big Time is set in a small Spider base outside of spacetime known simply as the Place. By virtue of its location, the Place is immune to the temporal disruptions of the Change War. The book's chilling description of the effects of this Change War was what originally set my Lost sense tingling:
Have you ever worried about your memory, because because it doesn't seem to be bringing you exactly the same picture of the past from one day to the next? Have you ever been afraid that your personality was changing because of forces beyond your knowledge or control? Have you ever felt sure that sudden death was about to jump you from nowhere? Have you ever been afraid of Ghosts -- not the storybook kind, but the billions of beings who were once so real and strong it's hard to believe they'll just sleep harmlessly forever? Have you ever wondered about those things you may call devils or Demons -- spirits able to rage through all time and space, through the hot hearts of stars and the cold skeleton of space between the galaxies? Have you ever thought that the whole universe might be a crazy, mixed-up dream? If you have, you've had hints of the Change War.

The part about the "Ghosts" of people from timelines that no longer exist made me think of Jacob and the Whispers, both of which have a ghostly quality. I was also struck by the reference to "spirits able to rage through all time and space," which reminds me of Desmond's consciousness time travel, and which evokes the message of the Others' brainwashing video that "only fools are enslaved by time and space." To me, moreover, the Law of the Conservation of Reality sounds a lot like course correction. No surprise, therefore, that Ms. Hawking wears a snake pin (i.e., the Ouroboros).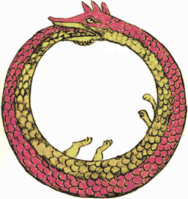 What I didn't mention before, but seems highly relevant in view of Jughead, is the nuclear weapon that drives the plot of Big Time. The characters are trapped in the Place with a "tiny tactical atomic bomb" counting down to detonation. I remember thinking the bomb would be a great metaphor for the Swan -- I never expected we would actually see such a nuke on the show. If you think about it, though, the jughead serves that symbolic purpose perfectly. Like the Island itself, the bomb suffered a breach that must be plugged with lead and buried in cement.
In the spirit of Herb Caen, here are some three-dot thoughts on Jughead:
ARE YOU THE DOCTOR?
Penny's difficult childbirth, especially all the hemhoragging, brought to mind the pregnancy problems on the Island. Maybe this was merely for suspense, but I doubt it given Sun's difficult childbirth, as well. A pattern seems to be emerging the whereby children of people connected to the Island are somehow abnormal. Penny never visited the Island herself (at least so far as we know) but Desmond became basically a living extension of it after bathing in its exotic energy during the Swan imposion...When Des told little Charlie (awww...) about the special island he left long ago, I thought for a split second he was talking about the Island. That scene is pregnant with irony (groan...) particularly Penny's warning about her big bad daddy, whose reaction to Desmond's return is surprisingly meek.
YOU JUST COULDN'T STAY AWAY, COULD YOU?
At first, I figured that Ellie's line about Daniel not being able to stay away was a reference to some future jump that would take Faraday even further into the past. But it seems clear she was alluding to her belief he was U.S. military...Let me preface my next comment by stipulating that Rebecca Mader is beautiful. Unfortunately, no thanks to my friend
MB
, I can only see Eric Stoltz's character in
Mask
whenever she's onscreen...Did Miles simply see the trip wire for the landmines, or did one of those dead soldiers warn him?
SEMPER UBI SUB UBI.
Who says Latin is dead? As a former student myself, I was pleased the Others chose it as their secret language. Gives them a kind of secret order feel, like the Freemasons or Knights Templar...Now we know why only some of the Others wore U.S. military uniforms and carried guns -- they scavenged these items from the dead soldiers...The Others took down 18 armed and presumably well-trained soldiers with only bows and arrows. This earlier group of Others seems quite a bit more badass than their modern counterparts...Curious how Daniel makes a point of never revealing his name to Richard.
NO RECORD OF ANY FARADAY.
When Desmond was told there were no records of any Faraday at Oxford, I briefly feared they might be going the cliched route of erasing Dan from history. So, I shared Desmond's relief at seeing familiar sights like Faraday's radiation machine and Eloise's maze...I really appreciated how the writers slowly and carefully established the plausibility of Dan's profession of love for Charlotte. Those two have a nice chemistry...It's interesting how Widmore snapping Cunningham's neck parallels Goodwin doing the same to Nathan. Those Others do what needs to be done...Did fate intervene to make Locke hesitate, thereby ensuring a future with Charles Widmore?
AFTER WHAT HE DID TO THAT POOR GIRL.
It seems that Theresa is either an intentional or unintentional victim of Faraday's time travel experiments. It's hard for me to believe he would actually test the device on her -- I'm guessing it was an accident of some kind. However it happened, she's obviously unstuck in time, not merely demented...Mr. Widmore has taken a keen interest in Daniel's career, even cleaning up the latter's messes like Theresa. He also obviously knows Daniel's mother, but if they were ever friends, I think they're now estranged. I wonder what she thinks of Widmore's generosity toward her son...
THAT SODDING OLD MAN.
I loved the transition from Widmore's dismissal of Locke's tracking skills to the latter surveying the camp from the hillside...Richard is very old and has apparently been on the Island for some time. That suggests his agelessness isn't the result of time travel, as some have speculated. My own pet theory, of course, is that Richard died on the Island long ago but was reincarnated by the Smoke Monster, which is why he never ages...What is it about Ellie that so disturbs Faraday? Is it just her appearance, or does he actually know her in the future? One thing seems clear: whatever brought the Others to the Island, it clearly wasn't time travel, because they seem utterly baffled by the possibility.
JACOB SENT ME.
It was fascinating how the name Jacob held such power over Richard as far back as the 1950s. I do wonder how Alpert managed to speak with the Island's ghostly patriarch. I've always thought that was Ben's special talent, which is why he was chosen to be the Others' leader. Richard seemed to be in charge of this crew, but I got the sense his title was interim, which got my whackadoo wheels turning. Is it possible Richard actually knew Jacob? Perhaps Alpert was the latter's second in command. Maybe Jacob was a casualty of the Others' conflict with the U.S. military team...
MR. HUME IS A COLLEAGUE OF MINE.
Interesting choice of words by Charles Widmore. He referred to Desmond as a "colleague" instead of an "acquaintance." That implies a level of equality Widmore has never previously afforded Des...I wonder if Widmore has similar precognitive abilities, which is why Richard orignally recruited him to join the Others. That could be what Widmore meant (in the Shape of Things to Come) by the nightmares that drive him to drink in the middle of the night...The revelation that Daniel's mother is in Los Angeles seems to confirm what many of you speculated last week -- i.e., Ms. Hawking is his mother.*
ONE LAST THING.
The implication is that Widmore selected Charlotte, Daniel, and Miles for his science team because he remembered encountering them on the Island in the past. That presumably is why he's been funding Faraday's work for all these years. What confuses me is why Widmore didn't track down John Locke sooner. I would have expected him to be present at the Chosen One's birth in Tustin just like Richard Alpert...
*Correction:
The original sentence erroneously suggested that Ellie's accent was Kiwi. Her casting call, however, specifies that the character's accent is supposed to be British. So I'm apparently wrong about her being from New Zealand. D'oh!