I believe it was co-creator Damon Lindelof who originally said there are no aliens or time travel on Lost. Now that we've seen several instances of the latter, Damon has revealed that time travel was always in the DNA of the show. Given the title of last night's episode, I have to wonder if his next big revelation will be that Lost also contains extra-terrestrials in its genes.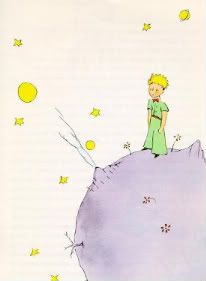 The Little Prince refers to the
classic French novel
of the same name by Antoine de Saint-Exupéry about an alien child who falls to Earth. The title character hails from a small planet that humans have dubbed Asteroid B-612. One day, the Little Prince finds himself in the neighborhood of six other asteroids (including one called 325...hmmm). He meets their respective residents, one of whom suggests that the Little Prince visit Earth. There, he encounters the narrator, whose airplane has crashed (hmmm...) in the same desert as the Little Prince.
There are many thematic parallels to Lost, particularly the problem of narrow-mindedness inevitably breeding mistake, a point the book makes many times. We learn, for example, that the Little Prince's home planet was first sighted from Earth by a Turkish astronomer. Unfortunately, when the astronomer presented his finding to the International Astronomical Congress in Europe, he was ignored because of prejudice against his Turkish garb.
Asteroid B-612 remained unrecognized until the astronomer resubmitted his discovery wearing European clothes.
Another great illustration of this problem of limited perspective is the desert flower whom the Little Prince questions shortly after falling to Earth. Because the flower knows only the vast wasteland of the desert and has seen only a single caravan of people in her entire life, she erroneously reports that the planet is sparsely populated.
I expect Ben will face a similar dilemma coaxing the Oceanic 6 back to the Island. All of them understandably mistrust him because of how he behaved there before. A few have personal reasons for mistrusting him even more. Kate knows that Ben exposed her lie about Aaron; Sayid may have discovered that Ben tricked him into killing people who weren't responsible for Nadia's death; and Sun probably learned that Ben was responsible for blowing up the freighter, which she believes killed Jin. They will have a hard time looking beyond their experiences to see the necessity of what Ben now preaches.
Even more fundamentally, I believe such a mistake born of bias drives the mythology of the show. As I've suggested in posts like
Extinction or Evolution
and
An Anti-Christmas Carol
, the Dharma scientists may have misunderstood the Valenzetti Equation's prediction of our extinction. They erroneously assumed it could only come from some disaster -- e.g. nuclear fire, chemical and biological warfare, conventional warfare, pandemic, over-population, etc. They ignored the possibility that the Valenzetti might actually predict humanity's extinction by evolution into a whole new species.
We've seen many such mistakes of perspective depicted or referenced on the show. Why do you suppose the Others wore fake beards and pretended to be so primitive? A main reason was presumably so the crash survivors would underestimate them. Another great example is Locke's misjudgment concerning the importance -- or lack thereof -- of pushing the Swan button. Then there's the Flash and Green Lantern comic Walt was reading back in Season 1. In addition to polar bears, the story involves two superheroes who misinterpret an extra-terrestrial's actions as hostile.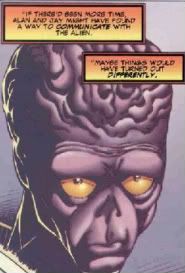 And that brings me back to the speculation that started this post. Aliens. I've always suspected they were part of the backstory, notwithstanding Damon's denial. I figured that seemingly magical aspects of the Island like the Cerberus monster and the Frozen Donkey Wheel must be relics of their arbitrarily advanced technology. But I always assumed the aliens themselves were long dead, extinguished in some ancient calamity perhaps involving the volcano. Now I find myself mulling the possibility that Jacob is an extra-terrestrial using Aaron as his host.
After all, what was Claire's preferred lullaby for Little Prince Aaron? Catch a falling star and put it in your pocket...never let it fade away. In the spirit of Herb Caen, here are some three-dot thoughts on The Little Prince:
I THINK WE SHOULD SAY HE'S MINE.
I've been looking forward to an explanation of why Kate decided to claim Aaron was her son. But something about the explanation seemed superficial and unsatisfying to me. I would have preferred that they spin Kate's initial interest as selfish -- i.e., Aaron was her ticket to staying out of prison -- then depicted her growing to love him...Are Kate and Jack supposed to be together? It's unclear but the show does seem to be setting up parallel pairings of opposites -- i.e., Dr. Jack with Kate, and Dr. Juliet with Sawyer...Kate should have known something was up the minute Sun promised to give Aaron candy from the mini-bar -- no Korean mom would waste money on the mini-bar...No surprise Sun has been keeping tabs on Ben and Jack, the two men she probably holds most responsible for Jin's death.
IT'S LIKE REALLY BAD JET LAG.
As Juliet notes, jet lag isn't known to cause hemorrhaging. Still, the inability to sleep can quite literally be torture -- sleep deprivation is used worldwide as an interrogation method. Just how long has it been since the "Lefties" (thanks to
Fierro
for that one) slept?...I love the way Juliet seems uniquely able to handle Sawyer and keep him in check. Her calm but blunt demeanor and Mona Lisa smile brings to mind
this Slate article
I read recently about how to handle children when they deliberately push your buttons...Faraday's hypothesis that the bleeding is a function of how long one has been on the Island tends to support the speculation that Charlotte and Miles were both born there -- or at least lived there as children. That, in turn, raises the likelihood that baby we saw with Dr. Chang was one of those two, probably Miles...
BEN IS ON OUR SIDE.
Like I said above, trusting Ben again will be a bitter pill for the Oceanic 6 to swallow, doubly so for some of them...One curious thing is how quickly Jack has been to convert to the cult of Linus. It may have something to do with Ben helping him get off prescription painkillers. In that regard, the dynamic parallels Locke helping Charlie kick heroin back in Season 1...Hurley says he's safe in L.A. County lock-up. But if you believe the ghost of Ana Lucia -- as I do -- the last place Hurley should be right now is in police custody...Who keeps trying to tranquilize Sayid? My guess would be Charles Widmore. But why not just kill him? Maybe Widmore needs Sayid alive, but I wonder if the former recognizes that killing the latter would violate the rules of the game. Then again, if Widmore were behind the attacks, Sayid wouldn't bother asking who was. Maybe it's the Economist?
IT WAS JUST A LIGHT.
The light, as Locke explains, is from the night when he banged on the Swan hatch, despondent over Boone's death. It's telling that Locke isn't even tempted to revisit himself on that night. When Sawyer asks him why he didn't go back and save himself a world of pain, Locke answers that this pain made him who he is. Interestingly, Sawyer himself makes exactly the same decision when observing Kate help Claire give birth to Aaron. Sawyer's rationale that "what's done is done" complements Locke's well -- both are expressions of the show's underlying fatalism...To clarify, since there seems to be some confusion, there's no rule of time travel that prohibits you from meeting yourself. The catch is that, if it didn't happen, it didn't happen. If you don't remember meeting some future version of yourself, then you won't. The big exception is Desmond, who can make "new" memories by changing the past...
THAT'S MY LAWYER.
Just how many people of interest on the show does Dan Norton represent? I wonder what miracle Ben performed for Norton to merit such obvious gratitude...It struck me as contrived that Nortion just happens also to represent Claire's mom, who just happens to be in town collecting a judgment against Oceanic. I think that scene would have worked just as well if the person Norton visited in the hotel were some mysterious figure we'd never met...The name on the side of Ben's van reads CANTON-RAINIER, which is obviously an anagram for reincarnation. It doesn't take a genius to realize this is probably a hint about what they're supposed to do with Locke's corpse...Funny how Ben doesn't even bother denying that he was the one trying to take Aaron. Is this something Ben did to drive Kate back to the Island, or is it a sign Aaron isn't supposed to return with them?
DOES ANYBODY SPEAK FRENCH?
My first thought when the outrigger canoe jumped (very convenient, btw, that it went with our Lefties through time) into the storm was that it might be the one that caused Danielle's shipwreck. I was ecstatic when we got confirmation in the form of wreckage with French words. Finally, we get to see the story of Rousseau's ill-fated science expedition! I've been dying since Season 1 to know how Montand lost his arm. I was worried when Danielle died that the tale might never get told, though I suppose they could have done so through flashbacks of someone observed the expedition...The moment I saw that body floating on the debris, I knew it was Jin and that he was alive. But that raises a potential wrinkle. Why didn't Rousseau remember Jin when they met again following the crash of Oceanic 815? Was she just that far gone? Or is this a sign that Desmond has changed things somehow?