In my
recap
of The Little Prince, I posed a question that merits its own post. Why didn't the Rousseau who encountered the survivors of Oceanic 815 remember finding Jin after the wreck of her boat? Jin was in camp on at least two occasions when the older Rousseau visited (i.e., espisodes
1:23
and
4:1
) so I'm pretty sure they met. I see three possible answers.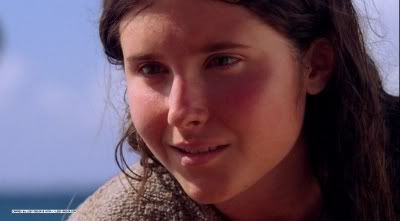 1. SHE'S JUST THAT CRAZY:
To my mind, this is the most likely but least satisfying explanation. Sixteen years on the Island clearly took its toll on Danielle's psyche. When Sayid found her in
Solitary
, she was clearly a "nut job," as Charlie put it. Maybe she was just too far gone by then to remember meeting Jin so many years before.
But was Danielle really
that
crazy? She remembered everything else about her shipwreck and the events that followed. With the exception of her lie to kidnap Aaron, her information has proven pretty accurate thus far. I bet we'll get further confirmation of the reliability of her recollection in coming episodes that show what happened to her expedition.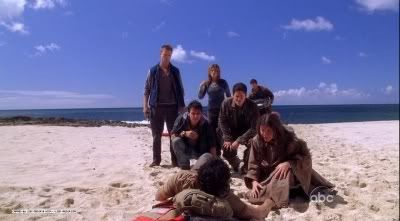 So, while this scenario seems probable, I'll be rather displeased if it turns out that Danielle's madness made her forget something as memorable as finding another shipwreck survivor. Not to mention one who's probably going to vanish in a blinding flash of purple light.
2. PURPLE FLASH=MEMORY LOSS:
Some of you suggested in reply to my Little Prince recap that the purple flashes cause amnesia in bystanders. This fits with indications that Faraday's time travel experiments at Oxford left him with memory loss of his own. Perhaps that's why Dan needed a caretaker, and why Charlotte tested his memory with cards.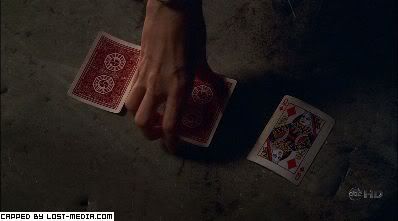 But there are problems with this scenario. Amnesia is a little too convenient for my taste. Even more importantly, Richard remembered the date and place of Locke's birth, and Charles Widmore apparently recognized Charlotte, Dan, and Miles from the Island. Storylines like these only make sense if observers retain their memories after the flashes.
3. DESMOND CHANGED THE PAST:
The general rule of time travel on Lost is that you can't alter history -- whatever happened, happened. The most you can do is influence the past, thereby effectuating the future you already know. I cited two such
predestination paradoxes
involving Locke and Widmore in the preceding section.
Indications are, however, that Desmond Hume is an important exception to this rule. He can indeed alter the timeline, changing the "picture on the box." I suggested in
An Anti-Christmas Carol
that Des did just that by delaying Charlie's death until the latter could shut off the Looking Glass jammer, leading to the rescue of the Oceanic 6.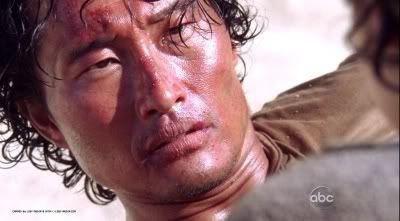 If you think about it, Jin showing up on that freighter debris is the result of Desmond's intervention, as well. Basically, if Des hadn't enabled Charlie to deactivate the jammer, Jack would never have called the freighter, which never would have exploded with Jin onboard. I'm oversimplifying the causal chain a bit, but you get the idea.
And that raises one final whackadoo speculation. What if Jin appearing in Danielle's history is the first sign that the timeline we know is changing in small but significant ways? In fact, if you really want to follow me through the looking glass, consider the possibility that this will all pay off in Season 6 with a Rousseau resurrection...