The new ARG (follow the clues at the
LOST ARGs
) apparently revolves around the exploits of comedian Paul Scheer, who presented Darlton with the velvet polar bear painting at Comic-Con. In his most recent video, Paul sneaks onto the lot at ABC studios. In the course of his wanderings, Paul finds several items of interest, including a script that reveals the title of the Season 6 premier may be "LA X" (sic).
But what really set my LOST sense tingling was Paul's discovery of a bright red rose, which I believe is a Dark Tower reference. In Stephen King's epic series, the Dark Tower serves as a kind of keystone for all realities in the multiverse. The Dark Tower exists in our reality as a single rose growing in an abandoned lot in Manhattan. If the rose is harmed, the Dark Tower will be as well, imperiling all creation. Note how Paul says "You broke the rose" after his cameraman damages the flower.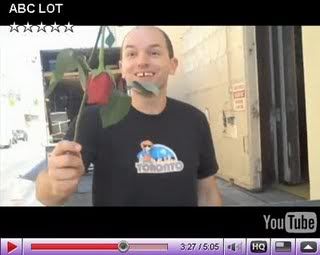 Darlton have said they're huge Dark Tower fans and are reportedly involved in the film adaptation of the series. Let's say detonation of the bomb creates a tangent timeline in which Oceanic 815 lands safely at LAX, rather than crashing on the Island. Could Paul's comment about breaking the rose be a hint that this apparent paradox threatens to destroy
both
the reality we've seen
and
its alternative?