I'm an active viewer, which means I talk back to the television when especially pleased or annoyed. I recall howling in protest during Whatever Happened, Happened, when Richard said that little Ben would "forget this ever happened" after being taken to the Temple. I groaned again when Ben's memory loss was seemingly confirmed in Dead Is Dead. At the time, I chided Darlton for the opportunity squandered. Recently, however, I realized that my charges of a copout may have been premature. What if one twist of Season 6 is that big Ben actually remembers everything that happened to him as a kid?
Richard's line aside, it does seem like the show has been building naturally to this revelation. There are a number of signs that Ben's shooting was the defining event of his life. After Namaste, when Juliet performed surgery on Ben as a child, I suggested the painting of the blond woman that hung in Ben's house as an adult was actually of her. There's some dispute on this point, but the woman in the painting could be holding a (very) large field mouse, which was the subject of Juliet's fertility research. And as
Capcom
has noted, the two women share the same mysterious Mona Lisa smile.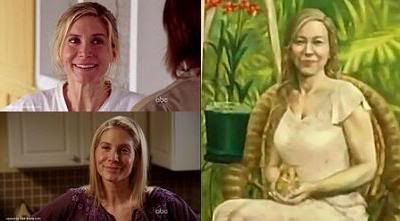 Then there's Kate's creepy breakfast with big Ben in A Tale of Two Cities. Recall that he clothes her in a sundress and treats her to a pleasant meal on the beach. When Kate demands to know why, Ben replies: "I did all those things so that you'd have something nice to hold onto. Because, Kate, the next two weeks are going to be very unpleasant." Back in Season 2, I remember thinking that Ben must be fixated on Kate because of her resemblance to Annie. But that scene makes even more sense if Ben remembers how Kate saved his life -- and risked her own -- by taking him to the Others.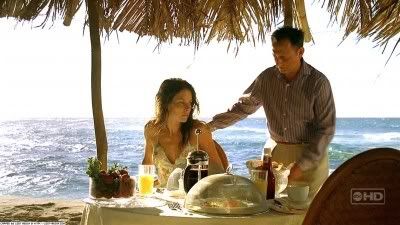 Similarly, Ben's exchange with Sayid in He's Our You makes chilling sense if Ben remembers being shot. When he accuses Sayid of wanting to kill, Sayid angrily asks why Ben would think such a thing. The latter replies: "Because, Sayid... to put it simply, you're capable of things that most other men aren't. Every choice you've made in your life, whether it was to murder or to torture, it hasn't really been a choice at all, has it? It's in your nature. It's what you are. You're a killer, Sayid." Ben can be so sure because he knows from personal experience that Sayid will shoot a child in cold blood.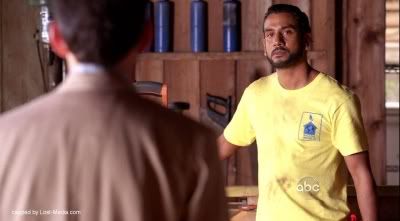 So why did Ben recruit Sayid as an assassin if he knew it would harden the Iraqi's heart against him? And why generally go through the charade of having little Ben forget the shooting if he actually remembers? The answer to both questions has to do with the loophole. Ben was never supposed to become leader of the Others. The Man in Black starts him on this track by orchestrating a chance meeting with Richard in the jungle. Another step is the shooting, which brings Ben to the Temple. Years later, Ben will use Penny to justify Charles Widmore's exile, completing his ascension.
Somewhere along the line, Ben recovers his memory, perhaps with a little dream inspiration by the Man in Black. He begins learning as much as he can about the '77ers from sources like Oldham's report and Faraday's journal. He recruits Juliet, whom he remembers saving his life. And when Oceanic 815 crashes, Ben is ready with a plan to infiltrate the survivors. He also prepares for his departure and eventual return, stashing money and passports in the desert and building the runway for Ajira 316. Then Ben turns the Wheel off its axis, causing the time flashes that open the loophole.
Here's where things get really dark. Even if he doesn't fully comprehend why, Ben realizes that a big reason he became leader was his visit to the Temple as a child. Knowing this event is pivotal, he deliberately stokes Sayid's murderous rage during the time they're off the Island so Sayid won't hesitate -- or even blink -- when shooting him as a child. That's how desperately Ben wants to maintain power, his desire enhanced no doubt by the Man in Black's mental nudges. Way back in One of Them, Sayid screams that Ben "would remember!" In fact, he does. Ben remembers everything.
As always, you're welcome to post anonymously,
but please identify yourself somehow
, so I can distinguish between anonymous posters. Thanks!