Some Like It Hoth once again showcased the hilarious and surprisingly moving Miles and Hurley Show. Which is fine with me because Ken Leung has become one of my favorite actors on Lost, despite his relatively limited role thus far. As my friend
MB
observes, Leung brings a compelling "everyman" quality to Miles. After his most recent round of flashbacks, however, the spin-off I'd really like to see is "DHARMA: The Next Generation."
In my
recap of Dead Is Dead
, I speculated that Ilana and her burly friend Bram might work for DHARMA. Now we learn that Bram previously kidnapped Miles and asked him the same question that Ilana did Lapidus. This time, the query -- "Do you know what lies in the shadow of the statue?" -- took on a more mystical air. When Miles didn't, Bram said this meant he wasn't ready to go to the Island. But the big guy invited Miles to "come with us," promising he would learn the answers to burning questions like who he is, why he can speak to the dead, and "most of all" who his father really was.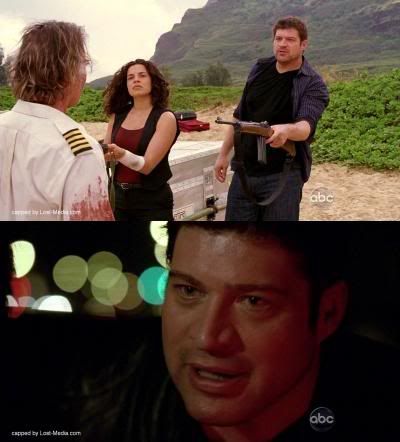 The revelation that Miles's dad was indeed Dr. Pierre Chang seems to confirm Ilana and Bram's connection with DHARMA. In fact, the latter two may themselves be the children of DHARMA members just like Miles, Charlotte, and Ethan. The big question is whether any of these DHARMA children were born there besides Ethan. We know that most of the DHARMA births took place on the mainland, but I'll bet Miles was an exception to this rule.
That possibility brings me back around to one of my favorite speculations. In posts like the
Island of Lost Children
, I've suggested that certain children, particularly those born on the Island, are capable of channeling its exotic energies. The children of DHARMA were removed from the Island at some point, probably to save them from the Purge. Someone is now recruiting them as adults with the aim of reconstituting DHARMA.
So what precisely is Miles's power? We've been led to believe he's a "ghostbuster" who can communicate with the dead, but this episode clarified some important limitations on his ability. Miles can't actually converse with ghosts. Instead, he learns "who they were and whatever they knew before they died" by scanning their minds like Smokey. (This may be why Miles was also able to tell Michael was lying about his name in Meet Kevin Johnson.) For that to work, however, the brain must apparently be intact as it was in the case of Widmore's courier.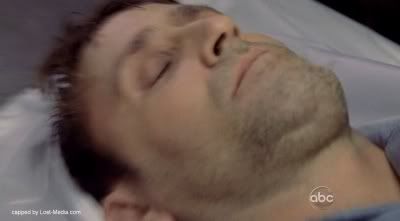 Speaking of which, I think we now know who really faked crash of Oceanic 815. Recall that Tom blamed Charles, who denied responsibility. I'm guessing it was actually this next generation of who DHARMA who dug up those bodies in Thailand and purchased that old airplane in an effort to hide the location of the Island. Widmore's man was probably returning with proof that the crash was fake when the Others intercepted him. They found this evidence, which Tom later presented to Mike, and erroneously concluded that Widmore was the one behind the deception.
So much for this speculation -- the clip show seemed to confirm it was Widmore who faked the recovery of Oceanic 815...
One thing's for sure. The coming war that Widmore mentioned to Locke will be between the Others and DHARMA for control of the Island, which is
the key to the whole game
. Here, in the spirit of Herb Caen, are some three-dot thoughts on Some Like It Hoth:
HE'S STILL TALKING.
The microwave reads 3:16... I love how the editing and camerawork when Miles finds the dead body evokes the style of Asian horror films... Miles could "hear" the dead man's last thoughts -- his loneliness and cries for his dead wife -- but couldn't actually talk to him... Horace sends Miles to a grid inside Hostile territory, suggesting to me the Others and DHARMA have closer ties than we've been led to believe. In my more whackadoo moments, I wonder if Charles Widmore was actually playing
both
sides of the sonar fence. Maybe, during one of his many trips off the Island, Widmore invested in the Hanso Group, which partnered with DHARMA to create the "DHARMA Initiative Hanso Group" (i.e., the abbreviation "DIHG" on the Blast Door Map). What was Widmore's motive in doing so? Because of his interaction with Locke and Co., Charles realized the Island was capable of sending people into the past. He funded DHARMA's time travel experiments to complete the causal loop. Perhaps, once the Swan and Orchid were built, he had no further need for DHARMA and had them purged...
SOMEWHERE YOU CAN NEVER GO.
That's what Miles's mother replies when he asks where his father is buried. It's telling that she lied and otherwise discouraged him from trying to find the Island, much like Charlotte's mum did whenever Charlotte asked about her father and childhood home... This seems to confirm that both daddies died in the Purge... Love EMO Miles. I wonder if his spikes were a shout out to the Kid Omega character that Ken Leung played in the third X-Men film... I had no idea that the actor who portrays Roger Linus was the same guy who played crazy Uncle Rico in Napoleon Dynamite until
JLes
pointed it out. Perhaps I'm too quick to dismiss Roger's much maligned wig, which successfully hid the resemblance...
HOW DO YOU SPELL BOUNTY HUNTER?
When Hurley asked that question, I immediately suspected he was trying to write the Empire Strikes Back... Miles learns that Alvarez died when a filling was yanked out of his mouth, presumably by the Island's powerful electromagnetism. This suggests Alvarez was working on the Swan Station, as confirmed by the Swan insignia on the uniforms that Radzinski and Co. wear. The death harkens back to Desmond's comment in Orientation that his fillings hurt every time he walks by the concrete barrier in the Swan... I'm a big fan of the actor Dean Norris who played the despondent father, Mr. Grey. Norris also plays one of my favorite characters on one of my favorite shows, Breaking Bad, which I featured in a
recent post
. Which reminds me -- I'm actually moving my non-Lost related posts to a new blog about television called
I Hate My DVR
. Stay tuned for more info... Miles visibly cringes when Mr. Grey mentions that they cremated his son's body, further confirming for me that he can't simply talk with ghosts... I'm with
KoreAmBear
that Naomi looks hot, especially with long hair... Roger's mistrust of Kate struck me as implausibl. Given his hots for her, I would expect him to give her the benefit of the doubt. Their confrontation seemed forced for the purpose of moving the story forward... Hurley's comment about playing chess with the dead was a reference to his line in There's No Place Like Home "Checkmate, Mr. Eko"... I'm guessing Dr. Chang had the corpse brought to the Orchid for use in time travel experiments...
SO WHAT CAN YOU TELL ME ABOUT THIS MAN?
All of the scenes where Miles actually reads the minds of dead people, as opposed to faking, are done in the Asian horror film style that I mentioned above. This was also true in past episodes-- e.g., when Miles scanned the minds of the dead soldiers in Jughead. Notably, the scene in Confirmed Dead where Miles spoke to the ghost of the drug dealer was not done in this telltale style, suggesting he was faking... The "significant number of dead bodies" that Naomi mentions presumably refers to the Purge. But I suspect the real reason Widmore wanted Miles on that expedition was that they had already met in the past... The sum $1.6 million marks another appearance of the Numbers (i.e., 16)... My friend
MB
can't get over the speed and stealth with which Jack erases the blackboard. Perhaps that's Jack's special power? ...Roger sure likes to kick things. Why wouldn't he report Kate to LaFleur? ...Hurley explains that the Swan Station will eventually be responsible for crashing their plane. Could the Incident be his attempt to change the future and avert the crash by sabotaging the Swan?
YOU'RE PLAYING FOR THE WRONG TEAM.
Bram calling Mile's as "my friend" brought to mind Cesar's verbal tick. Was the latter a member of DHARMA: TNG as well? ...What do you suppose were Hurley's "improvements" to the script of Empire Strikes Back? ...Patrick Fischler is perfect as nosy and obnoxious Phil from security. In fact, it's testament to the success of Fischler's portrayal that I felt such satisfaction when Sawyer punched Phil's lights out... Miles refunding Mr. Grey's money reminded me of when he gave back half his fee to the mother of the dead drug dealer in Confirmed Dead, suggesting to me Miles was faking in both cases. His conversation with the drug dealer was just for show, in case the mother was eavesdropping. Miles found out about the stash the same way he learned the kid was murdered -- by scanning his brain at the morgue. The only wrinkle in this explanation is that drug dealer's ghost seemed to respond to Miles by bumping the bookshelf that hid his stash. My hunch is this is simply a plothole, but it's also possible the dealer's ghost really way there even if Miles couldn't actually see or hear him... I think Hurley has that backwards -- Vader cuts off Luke's hand before revealing he is Luke's father... How badass does Faraday look all dressed in black? Apparently, he really was absent from the Island, not simply out of his mind as many, myself included, had assumed...
As always, you're welcome to post anonymously,
but please identify yourself somehow
, so I can distinguish between anonymous posters. Thanks!