I have to admit, I had mixed feelings about Whatever Happened, Happened. We got plenty of mythological sugar, and the Kate-centric medicine turned out to be surprisingly sweet on its own. I also liked Miles and Hurley's hilarious discussion of time travel. And the scene where Ricardus took little Ben into the Temple to lose "his innocence" was powerful and disturbing. Still, Alpert's comment that Ben would conveniently "forget this ever happened" struck me as potentially problematic. I'm curious to see how the writers avoid the narrative trap they've apparently set for themselves.
Let's start with the Miles and Hurley show, which made me laugh out loud. ("Hey, ask me more questions about time travel!") Last week, my big mouth whined about the tendency of Lost to over-emphasize new character names and introductions. But give credit where it's due because the writers have handled explanations of tricky subjects like time travel with relative aplomb. Humor helps, as do clear metaphors. Miles's exposition got a little convoluted, but his exchange with Hurley culminated in exactly the right question: Why didn't big Ben remember Sayid shooting him?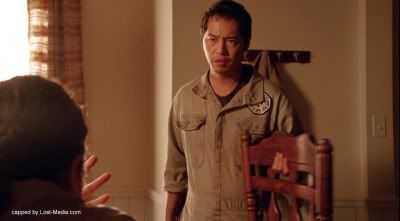 Unfortunately, the answer suggested by this episode -- i.e., Ben simply forgot -- seemed like kind of a cop out. It's not that amnesia is an implausible explanation. There are hints -- e.g., Mikhail's
notations
in the Flame -- that at least some of the Others suffer from memory loss. This could even explain how someone like Amy might join the Others despite their habit of murdering her husbands. The problem is that amnesia completely negates any impact the shooting can have on Ben's motivations as an adult, which strikes me as a tremendous opportunity squandered.
It really seemed as if the show was building naturally to the revelation that little Ben's shooting was the defining event of big Ben's life. In my recap to Namaste, I suggested that Juliet might be the blond woman in the painting that hangs in big Ben's house. Last week, I speculated that she might save his life, explaining his adoration of her and insistence that she stay on the Island. This week, we learned that Kate, too, played a pivotal role in little Ben's survival. For most of the episode, I was sure this explained one of my favorite scenes from Season 2 -- Kate's creepy breakfast with big Ben.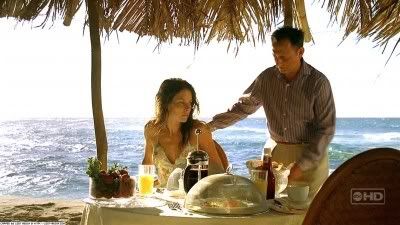 Speaking of Kate, I want to say a just quick word in praise of Evangeline Lily. I dare say this was the best Kate-centric episode in the series thus far. Lily may not be the best actress on the show, but her moving performance in Whatever Happened, Happened is probably her best shot at winning an emmy or golden globe. She was assisted by a top notch script written by Team Darlton themselves. What I really loved about the episode was that I finally understood and believed why Kate wanted to adopt Aaron. I totally bought her desire to use him to fill the void left by Sawyer's sacrifice.
I guess I'm just disappointed that we apparently won't get the same insight into big Ben's behavior. I'm also curious to see how the show will explain little Ben's return to Dharmaville. He presumably goes back eventually and lives there up until the time of the Purge. How will Ben's miraculous recovery be explained? Won't people wonder about his disappearance? And perhaps most problematically, what will little Ben make of their confusion and suspicion given that, according to Richard, he will forget this ever happened? It seems like amnesia actually creates more problems than it solves.
Okay, enough complaining about Ben's amnesia. Here, in the spirit of Herb Caen, are some three-dot thoughts on the episode:
HEY YOU! YEAH, YOU!
How creepy were Kate's interactions with Roger Linus? I loved the moment when she first realized who he was and forced herself to keep smiling. And the way he hit on her totally gave me the douche chills. Poor Roger's creep factor wasn't helped by that awful wig he wears. I haven't seen one so disturbing since the dead animal worn by
Michael C. Hall
during flashbacks on
Dexter
... Roger made another reference to the stratified power structure of Dharma with his rueful comment about janitors and grease monkeys. I wonder whether other disgruntled Dharmies will betray the Initiative during the Purge... Last week, we learned that the Initiative is governed on a day-to-day basis by ruling council, though it's unclear whether members are elected democratically. This episode gave us a glimpse into the Others' power structure. Apparently, Charles Widmore and Eloise Hawking are in charge, but all of them serve a higher power...

I CAME BACK BECAUSE I WAS SUPPOSED TO.
Jack's fatalistic attitude fascinates me. I've previously characterized Lost as
an Anti-Christmas Carol
-- the moral is to embrace your destiny because fighting the future inevitably backfires. Unfortunately, hearing Jack finally say so sounded awfully ugly and craven when a little boy's life was at stake. Is this just another example of Lost tweaking our expectations by having unsympathetic characters speak difficult truths? Or are the writers actually critiquing Jack's complete abdication of moral responsibility in the face of immutable destiny? Juliet and Kate's reaction reminded me of the existential response to nihilism. Just because you believe the world is devoid of intrinsic meaning isn't an excuse to do nothing. Rather, the onus falls on you to create meaning and to take moral responsbility for your creation... Jack says they came back to save the Lefties, but Juliet is correct that they didn't need saving -- Locke did so by restoring the Wheel. So what is that purpose? I'll bet it has something to do with getting everyone back to the future...
MOMMY, I'M FIRSTY.
The only thing creepier than randy Roger Linus in a wig is sinister little Aaron, who looks more like a
Midwich Cuckoo
with every episode. As Hank Hill would say, that boy ain't right... One of the more provocative speculations bouncing around the interwebs is that little Aaron may be invisible to everyone but Kate. There is defintely a
Sixth Sense
feel to her losing him in the supermarket. Kate is with Aaron when she asks the clerk where the juice boxes are. Yet when she asks the same clerk later if he's seen her son, he looks at her like she must be crazy. In another scene, Clementine answers the door and acknowledges Kate but not Aaron. Frankly, Aaron being invisible is a little too whackadoo even for me. Besides, other people -- including Cassidy -- repeatedly allude to Aaron's existence. Still, it's kind of funny to watch some of the interactions with this possibility in mind -- there are some really ambiguous encounters.
HIS INNOCENCE WILL BE LOST.
Richard's comment worked like a kind of Jedi mind trick distracting us immediately from the problems created by little Ben's amnesia. ("He will forget this ever happened...and so will you!") At first, I figured he meant that Ben was going to be corrupted physically, spiritually, or both. I had visions of Smokey as an
alien symbiote
, sweeping over him like Venom did Peter Parker in Spiderman 3. But then I remembered the
Gnostic
perspective, which sometimes seems to inform the show. Gnostics believe that the Old Testament deity is actually flawed, imperfect, and something of a poser. Some of them go so far as to venerate the serpent in the Garden of Eden as a heroic figure who sought to provide knowledge and wisdom to humanity. In that regard, I wonder if little Ben will become privvy to some dark secret that only those exposed to Smokey know -- one so terrible that those who know it are willing to kill their wives and unborn children in service of it...

ONE LAST THING:
Why did Ben seemed surprised to see Locke alive? When I saw the reaction of the former, I wondered if Ben is still, even now, trying to usurp Locke's place in some sequence of events crucial to the future of the Island. Perhaps Ben keeps trying to pound the square peg of himself into the round hole destiny, only to be rebuffed by course correction every time...
As always, you're welcome to post anonymously,
but please identify yourself somehow
, so I can distinguish between anonymous posters. Thanks!