I love so many things about Lost. But what I appreciate most is the way it always stays fresh by shifting ground just when I've found solid footing. Think Ben talks with Jacob? Wrong! Believe Bram and Ilana are the next generation of DHARMA? No soup for you! Suspect that Charlie Widmore's war will be between DHARMA: TNG and the Others? System Failure! Like some reality-tv cliche, I've been boldly proclaiming that I see the picture on the box of the show. As the Donald would say: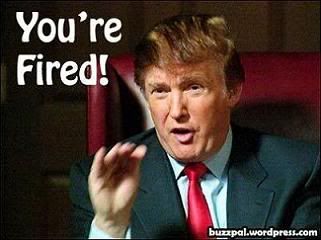 Let's begin at the beginning because the game changing scene for me, like many of you apparently, was the very first one of the episode. A lot of people are calling the Man in Black "Esau," which makes sense given the biblical connection to Jacob. But my suggestion for the Man in Black's biblical nickname would be the "Accuser" given his resemblance to the Accusing Angel (in most translations, Satan) who appears throughout the Old Testament as a persistent doubter and critic of humanity.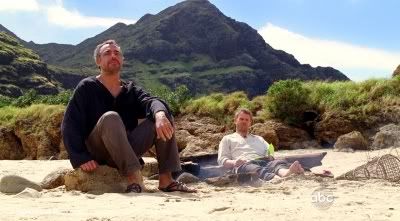 A great example is the
Book of Job
, which is framed by a divine wager over human worth. God brags about the devotion of his subject Job. The Accusing Angel counters that Job is so devoted because God has rewarded him with many possessions, a family, and good health. Ever the pessimist, the Angel bets that Job will renounce God if these things are taken from him. Eager to prove him wrong, God accepts the bet and gives the Angel permission to get "Guantanamo" on poor Job.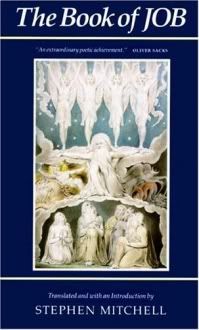 Remarkably, Job refuses to break even after his property is destroyed and his children are slaughtered. The Accusing Angel cynically notes that a man will give up everything to save his own skin, prompting God to authorize still harsher measures. The Angel takes Job's health, covering him from head to toe with painful boils. Job resists but eventually cracks, cursing the day he was born. Job's friends rebuke him, insisting he must have done something wrong to deserve his horrible plight.
Finally, God appears as a whirlwind and admonishes them all for presuming to understand his motives. In a series of brilliant yet disturbing passages, God illustrates the inadequacy of human metaphors to describe his divine design. The lesson is that bad things sometimes happen to good people for reasons our puny human minds just can't comprehend. His point made, God restores Job's lost health, family, and possessions, plus a little extra for his pain and suffering.
Like the Accusing Angel, the Man in Black is apparently cynical and pessimistic and about humanity. He seems convinced that our nature is to fight, destroy, and corrupt. Like God, Jacob is seemingly optimistic and determined to prove the Man in Black wrong. There's even a Jobian parallel in Ben, who becomes leader of the Others only to have his people, family, and health taken from him in horrible ways. No wonder Ben finally attacks Jacob like Job rebukes God.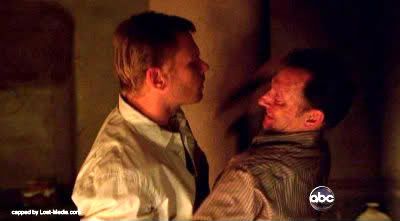 The Man in Black accuses Jacob of bringing the ship -- presumably the Black Rock -- that we see off in the distance. Not surprisingly, Jacob doesn't deny the accusation. Like the Eye of Horus in his tapestry, he reaches out and touches people, drawing them to the Island. And why does Jacob do this? I think a clue to his motives can be found in his comment that the world "only ends once" and "anything that happens before that is just progress."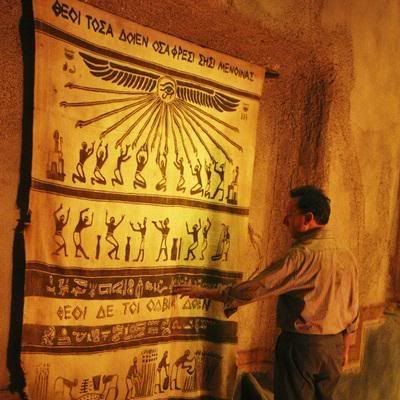 Jacob and the Man in Black are debating the fate of humanity. Without Jacob's intervention, the world would surely end, it's just a question of when. The Man in Black wants Jacob to stop postponing the inevitable because humans just aren't worth it. Jacob insists we're capable of progress and keeps bringing people to the Island in hopes of finding the
Omega Point
, which will save us once and for all. I'm guessing this is a very old debate between them -- one the Man in Black knows will never end unless he kills Jacob.
Jacob's conduct throughout the episode is consistent with this reading. He touches our Losties at pivotal moments in their lives to keep them on course for the Island, where they have roles in his plan to defy fate. Notice how several of the people he visits -- i.e., Jack, Kate, Hurley, Sawyer, and Sayid -- play key parts in causing the Incident. The Sawyer encounter is particularly instructive. If he doesn't finish that letter, chase the real Sawyer to Australia, crash on the Island, travel back in time, and pull a Han Solo, the assault on the Swan site probably fails.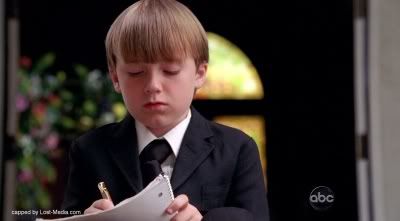 Notice as well how closely the Incident resembles the Swan implosion, right down to the flying metal objects and bright flash of light. That's more than mere narrative parallel. I wouldn't be the least bit surprised to learn that Desmond's activation of the Fail-Safe generated an electromagnetic pulse much like Juliet's detonation of the fission trigger. Bottom line: both events saved the world against all odds, in defiance of the Valenzetti. That's two we owe Jacob...
So who are Jacob and the Man in Black? I have some ideas, but first let me note one more relevant Old Testament connection. In the
Book of Genesis
, the biblical patriarch Jacob wrestles with a mysterious figure (sometimes said to be the aforementioned Accusing Angel) on the night before being reunited with Esau. The story of their battle is often interpreted as a metaphor for Jacob's internal struggle with his own doubts and mental demons. You might say Jacob was wrestling with his bad twin.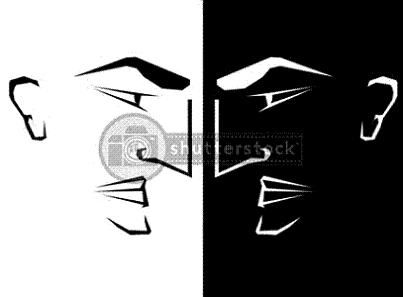 Here's where things get a little whackadoo. I'm sticking with my speculation that the Island is sentient, like Stanislaw Lem's
Solaris
or Philip K. Dick's
VALIS
. The twist is that some ancient trauma damaged the Island's giant brain. The result was two distinct personalities: one light, one dark. Jacob and the Man in Black are avatars that represent these two opposing sides of the Island's identity. (And before you say avatars don't eat, remember that
Dave
craved tacos.) Jacob was right that Hurley isn't crazy. It's the Island that's lost its mind...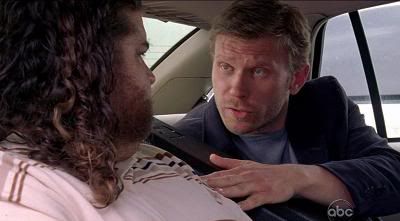 This brings me to the other people whom Jacob visited -- Ilana, Locke, Jin, and Sun. Since none of them played a direct role in causing the Incident, I suspect that Jacob has other parts in mind for these four. In fact, I think we've just witnessed Locke's real purpose, which was to provide a loophole for the Man in Black to kill Jacob. You read that correctly -- I think Jacob
wanted
to die. He saw the Man in Black's move coming from a mile away and exploited it for his own ends. Hence the Obi-Wan Kenobi quality to Jacob's death.
I think Jacob has concluded that the Omega Point can't occur until they're
both
dead. The rules prohibit them from killing each other. I'm betting, however, that whatever loophole the Man in Black exploited to kill Jacob now leaves him vulnerable to a similar fate. He's standing in the shadow of the statue, having just orchestrated the murder of the Others' beloved leader. Someone loyal to Jacob will eventually figure this out and avenge Jacob's death. I'm guessing that part is reserved for Ilana.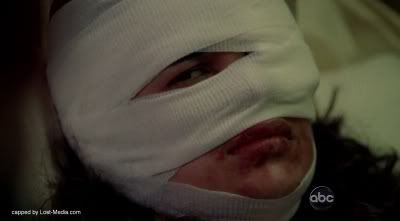 That leaves Jin and Sun. Notice how they're the only ones Jacob visits as a couple, at the moment of their improbable union. It's because their role in his plan necessarily requires two actors: conceiving little Ji-Yeon. Jacob realizes that the only way to cure the Island's madness is to substitute two new avatars who somehow transcend their opposition. One will be Ji-Yeon, who was conceived on the Island but born off it. The other will be Aaron, who was conceived off the Island but born on it.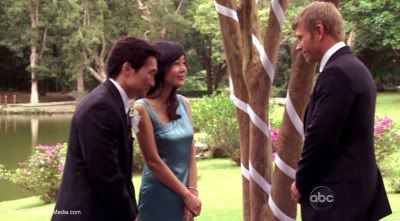 Mark my words, those two will eventually meet and fall in love. Everything that rises must converge on a Lost wedding between Aaron and Ji-Yeon some time before 2031. And while I'm making predictions (you'd think I'd learn my lesson, but no...) here are a few more from the Whackadoo Well for your reading pleasure:
Whackadoo Prediction 4:
Richard is from the Black Rock. He may be its Captain, Magnus Hanso, but more likely he's the first mate based on his apparent role as advisor to whoever leads the Others. The Black Rock's arrival is the first step in Jacob's elaborate long con of both destiny and the Man in Black, as symbolized by Richard's ship in a bottle in
Follow the Leader
.
Whackadoo Prediction 8:
Nothing we've already seen on the show has changed as a result of detonation of the Jughead's fission trigger. Flight 815 crashed on the Island just as it always did -- there is no reboot yielding a grandfather paradox. If that's where the show were going, I believe we would have received some small but clear indication of its direction. Something like
Cort's
Cuthbert's horn -- those of you familiar with the Stephen King's Dark Tower series will know what I mean. Instead, we got just the opposite in Miles's sardonic comment that Jack and Co. might be causing the Incident by trying to prevent it.
By that same token, it's equally wrong to say this was all simply a case of whatever happened, happened. I maintain that our Losties, like Desmond, changed what was
supposed
to happen. It is this altered timeline, in which they save the world, that we've witnessed thus far. Because neither the Incident nor activation of the Fail-Safe was supposed to happen, the general rule of course correction doesn't apply. Both events must thus be actively preserved. If anything changes, as Ms. Hawking said, every single one of us is dead.

Whackadoo Prediction 15:
Some of those present for the Incident will survive, having been transported by the blast back to Island's the future. That's why Jacob's last words were: "They're coming..."
Whackadoo Prediction 16:
Juliet will wake up naked in the jungle just like Desmond did following the Swan implosion. Okay, that's probably some wishful thinking on my part, but the Desmond parallel gives me hope that she, too, survived the blast. If so, look for her consciousness to time travel like Desmond's, and for her to join those who meet Jacob at some pivotal point in their pasts.
Whackadoo Prediction 23:
Sayid is dead. Yes, the Island has healing powers. But even on the Island, you don't come back from a gut shot -- ask Ana Lucia, Libby, and Colleen. I wish it were otherwise, but I've had a sinking suspicion for some time that Sayid's story is basically done.
Whackadoo Prediction 42:
Hurley survives but must make a pit-stop in 2004 before quantum leaping back to the future. His job? To
actively
effectuate events we've seen by hanging Charlie's guitar from a tree branch, where Locke will tell Charlie to look, as he did back in Season 1 during
House of the Rising Sun
...
That's all for this recap, you all everybody. Thanks again for your incredible comments and participation, which make running Eye M Sick so rewarding! Be sure to check back here during the hiatus for further whackadoo speculations. I'll also be posting over on
I Hate My DVR
my new blog about television generally. If you like shows like Lost, Battlestar Galactica, and Breaking Bad, I suspect we'll have lots to talk about...
As always, you're welcome to post anonymously,
but please identify yourself somehow
, so I can distinguish between anonymous posters. Thanks!