In the comments to a recent post,
Cameron
raised a possibility that's so deliciously whackadoo it merits a separate discussion. What if cute little Charlie Hume grows up to become none other than Charles Widmore himself?
I've long maintained that Penny and Desmond are Adam and Eve. In 2004, Jack estimates the bodies in the cave have been dead for about 50 years, which would place their deaths around 1954. Charlie Hume is three in 2008, and Charles Widmore seventeen in 1954. My guess, therefore, is that Penny, Desmond, and Charlie will return to the Island on a bearing that sends them back in time to 1940. Charlie will grow up on the Island, join the Others, and become their co-leader with Eloise.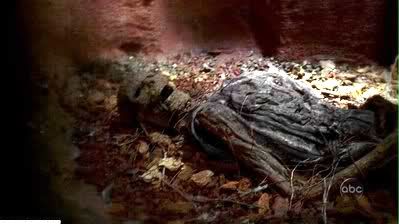 This means, of course, that Charles Widmore is actually his own grandfather. I'm reminded of my favorite episode of Futurama,
Roswell That Ends Well
, where Fry mistakenly kills his grandfather in the past. He then sleeps with his grandmother, becoming his own grandpa. Ben putting metal in the Orchid Chamber may actually be a sly reference to this episode. The Planet Express crew is hurtled back in time when Fry places a metal "Iffy Pop" container into the ship's microwave during a supernova.
Another great example of such ontological paradox is Robert Heinlein's short story
"-- All You Zombies --"
wherein the protagonist is his own mother
and
father thanks to time travel and a sex change. Eventually, we learn he/she's a time cop, manipulating events to complete the causal loop of his/her self-creation. Darlton may be fans of this well known time travel story, too. The protagonist wears a ring with a snake eating its tail, like Ms. Hawking's Ouroboros brooch.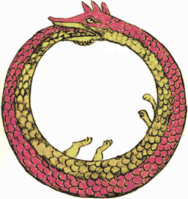 I suspect that Charlie and Ellie have been working similarly to preserve the ontological paradox that is Widmore. To paraphrase one of my older posts,
In Gott We Trust
, when seventeen-year old Charlie Hume lays his parents' bodies to rest in the cave five decades in the past, the Widmore family circle will be complete at last.
As always, you're welcome to post anonymously,
but please identify yourself somehow
, so I can distinguish between anonymous posters. Thanks!