One minor frustration of blogging about Lost is that there's no easy way for commenters to "bump" old posts like you can on an internet bulletin board. Sure, I could just repost a speculation or recap, but I would lose all your comments, which defeats the purpose. I particularly think this discourages folks from discussing episodes that have already aired.
So, at the excellent suggestion of
Wayne Allen Sallee
, I'm opening the discussion up this week to your comments about anything and everything that's happened on the show thus far. Forget to mention something really cool after your favorite past episode? Let us know! Have a question about some prior speculation advanced on this blog? Fire away!
It doesn't even need to be completely serious. For example, here's something that I meant to say following the
Life and Death of Jeremy Bentham
. I frankly found it amusing the way Locke rolled over and vomited after landing in the Tunisian desert. Disturbing...but also kind of funny the way spontaneous barfing can be. See, e.g., Monty Python.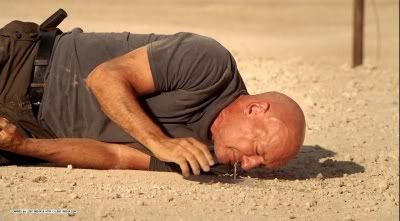 I couldn't help wondering if this was a college football reference. Last season, Kevin Barnes of Maryland hit California Golden Bears receiver Jahvid Best so hard that the latter barfed a bizarre neon-green substance. Within hours, clips of the hit were all over the internet with titles like "What Did Jahvid Best Eat for Breakfast?" Answer: "we called it Gatorade."
The puking parallel strikes me as deeply significant and a potential game changer. There have been other sports shoutouts -- e.g., the writers have joked that the name Kevin Johnson was a reference to the former Cal and Phoenix Suns point guard of the same name. I wonder if anyone on the staff is a college sports fan generally, or alum of U.C. Berkeley specifically...